Bob and I sailed our 36 foot sloop from Hawaii to French Polynesia in 2000, an experience which gave us a great appreciation for the Polynesian voyagers of old who populated the Pacific.  Living in Hawaii for so many years, we followed the voyages of Hokule'a and read everything that came out about the renaissance in traditional wayfinding.  A new book has just been published and released in Hawaii.  Hawaiki Rising by Sam Low.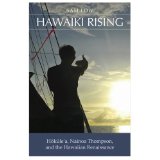 As the night wore on, the swells built to twenty feet and began to break. "Two big ones rocked the whole canoe," Chad recalls. "They went over us and I heard Gordon yelling "Is everybody okay?" Then another wave hit us and I remember one guy grabbed me by the shoulders and looked at me with big eyes and a pale face — 'This is it,' he yells. 'This is it." — page 233 Hawaiki Rising.
Sam Low's "Hawaiki Rising" is an important addition to the growing collection of books about the renaissance of traditional wayfinding on the Hokule'a, and the resurgance of Polynesian voyaging and the science and art behind it. This book differs from previous classics ("Voyage of Rediscovery" by Ben Finney, "We, the Navigators" by David Lewis, "An Ocean in Mind" by Will Kyselka, "Voyagers" by Herb Kawainui Kane) in that it's more of a narrative of the human dynamics of the early voyages. The author provides enough science and nautical information for understanding, but his real contribution is the candid revealing of the human drama that was at the core of these exciting voyages. He uses quotes from other crewmembers to recreate the experiences and lend validity to his account. His account of the loss of Eddie Aikau was absolutely riveting and reverent; he brings out the psychological effect it had on the entire crew and the future of Hokule'a. Sam Low concentrates more on the people, the voyagers themselves, and after reading it I feel like I know them a little better and have an inkling of what they went through.
My husband and I had the pleasure of hearing Sam Low and Nainoa Thomson introduce the new book at Imiloa in Hilo (June, 2013) as the Hokule'a is beginning another voyage. This book offers yet another perspective of the now legendary experiment and cultural revival of traditional Pacific voyaging.
Immensely readable and highly recommended. If you aren't familiar with the story of Hokule'a and the Polynesian Voyaging Society, this book is an excellent one to read first.