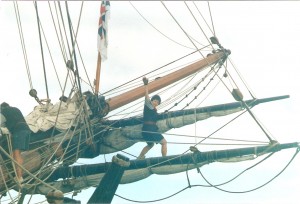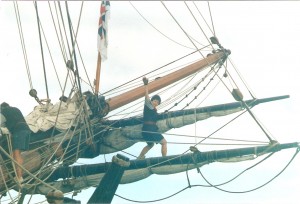 Ahoy! Check out my salty group All Things Nautical on Facebook!
Although I was born in Baltimore, practically on the shores of the Chesapeake Bay, I didn't learn to sail until I was landlocked in Colorado, three decades later. My uncle Danny had retired as a commander in the United States Navy and I had always enjoyed hearing his stories and seeing his ships in Norfolk, Virginia.
Bob, my boyfriend (and soon to be husband), inspired me with his sailing tales on Lake Michigan. Sometime in the late 1980's I signed up for an introductory sailing course on the Boulder Reservoir. Despite capsizing that Sunfish a dozen times while learning to tack and jibe, I was hooked.
Next, I went back home to Maryland and took a week-long sailing course at the Annapolis Sailing School. Later, Bob and I participated in a sailing course from St. Petersburg to the Dry Tortugas, and from there went on to enjoying several bare boat charters (Antigua, and Raiatea in French Polynesia).
In 1994 we moved to Hawaii and bought a used 36′ Leuters Cheoy Lee-built, sloop-rigged sailboat after seeing a scrap of paper on a community bulletin board in a marine supply store in Hilo, Hawaii. Thus began our adventures on Topaz…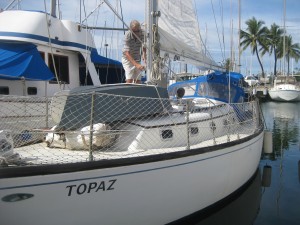 After working on her for several years, and cruising Hawaiian waters, we decided to take a longer cruise — from Hawaii to Tahiti — and cruise French Polynesia.  While planning for this voyage an opportunity of a lifetime came up: In 1999 we signed on the HM Bark Endeavour as voyage crewmembers for the replica ship's three week crossing from Vancouver to Hawaii. This experience was like a time machine back to the mid-18th century, when Captain James Cook, known for his navigational and charting abilities, made his first exploratory circumnavigation in a converted collier named Endeavour.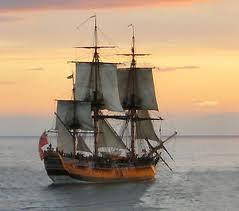 Voyage crewmembers were taught "the ropes" of which there are many! We climbed aloft to hand sails, we kept watch, we took our trick at the wheel, we maintained the ship, and at the end of our watch we strung our regulation size canvas hammock from the deck head and slept. It was during this passage across the North Pacific that the idea for Star-Crossed (working title, Orion Rising) was born. The experience also ignited an interest in maritime history that spurred me to return to University to study history, as well as to visit historic ships and maritime museums around the world.
Star-Crossed, published by Knopf in 2006 (seven years after our Endeavour passage) was conceived while I was at the bark's helm one night, after climbing aloft to help set the topgallant sail. I thought, if a middle-aged woman like me could live among men and do a seaman's work, surely a younger woman would have no trouble being part of a ship. I recalled stories of female pirates and of crossdressing women gone to sea and I realized how very possible it might have been.
In 2000 Bob and I set sail for the South Pacific. Another three week passage across the Pacific, only this time, just the two of us.  Watch and watch, we sailed — meaning one of us was always at the wheel, or at least keeping watch in the cockpit. We spent the summer sailing the islands of French Polynesia, then left our Topaz in a boatyard in Raiatea while we flew back to Hawaii for six months to wait out the southern hemisphere's hurricane season. The next spring we flew down and continued our adventures, finally returning to Hawaii in 2002.
Over the years I've written several articles based on my sailing experiences, published in Sailing, Cruising World and Sail Magazine.
---