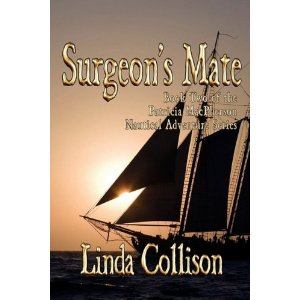 Facebook is my new literary agent.  Facebook replaces Laura Rennert who represented Star-Crossed, my first novel (book I of the Patricia MacPherson Nautical Adventure Series).  I was inspired to write Star-Crossed after working three weeks aboard HM Bark Endeavour, famed replica of Captain James Cook's bark, on its late 20th century crossing from Vancouver to Hawaii and if you are interested in that story you can read about it on my website, lindacollison.com
My erstwhile agent Laura Rennert hooked up with me at the erstwhile Maui Writers Conference, back in 2002.  She loved Star-Crossed but wanted to sell it as YA. I wasn't so sure teens were my market but I gave in (OK, I'm easy; it's not like I had agents fighting over me) and signed the contract.  When I got the phone call a few months later that Knopf wanted my novel for their historical YA list  — and was prepared to give me a five figure advance — I damn near swooned.  Are you kidding me?  Knopf?  Hell yes!  Where do I sign?
November, 2006:  Alfred A. Knopf publishes Star-Crossed to great reviews.  Hard back, library edition, mass market paperback, Kindle, Nook!  The New York Public Library chooses Star-Crossed to be among the Books for the Teen Age -2007!  And I'm thinking my ship has come in.  Those decades of writing for magazines, of scribbling stories while raising kids and maintaining a real job have finally paid off!   A WJZ television interview in my hometown of Baltimore! Book signings! School appearances! I was sure the hard part was over.  I would just do what I loved and the money would follow.
Wrong.  Again.
Knopf does not want to publish the sequel I have written, they are so done with Star-Crossed. Star-Crossed was truly star-crossed – most of the target market was dying to have a hunky vampire barely old enough to shave sink his fangs into their smooth pubescent necks.  The target market didn't give a damn about 18th century cross-dressing surgeon's mates with very real problems on their hands.  They wanted to read about characters drinking blood, not letting it and staunching it.  Oh, there are a few geeky, intellectual teens who profess to be Patricia MacPherson fans, but most of my readers are old enough to get drunk legally, and most of them haven't been carded for a decade at least.
Star-Crossed  enjoys her three months of shelf life but she doesn't sell enough copies for Knopf to invest in a sequel. I am dead to Knopf.  My editor quits taking my calls, ignores my emails.  My agent tells me it's over.  No other publisher would want to publish a sequel to a book that Knopf holds the rights to.  She dumps me.  Yeah.  My agent dumps me.
Other than my sequel and an outline for a whole series, I have nothing in the works that interests her.  She is SO wasting her time with me.  I'm not putting out, I'm not producing.  I feel just like I did in ninth grade when Marc Paulsen ignored me the day after we kissed (my first), an exquisitely hot press of adolescent lips I mistook for love.
But I'm still in love with my characters.  And apparently so are some of my readers.  What's happening with Patricia MacPherson?  Is she still a guy or is she a girl?  Do she and Brian ever get it on?  Do they live happily ever after?
Not to carry the love analogy too far, but finding an agent is kind of like finding Mr. Right in a singles bar; it's a sleazy kind of love if ever you do find it.  Come to think of it, the relationship between agent and author is more like pimp and prostitute.  Anyway, I am over being dumped. I keep on writing, writing, writing what only I can write.  I discovered (again) that the joy is in the writing, the creative process itself.  Sure, getting published is nice but honestly, if Knopf doesn't want to publish my sequel, fuck 'em.
Months pass.  A couple of years, actually.  And then, miraculously, my prince charming finds me on Facebook.  Actually, it's more like a blind date set-up thing in which a British chap named David Hayes who administers a lively blog and encyclopedic website www.historicnavalfiction.com seeks me out on Facebook.  Sees I'm an author of historical nautical fiction.   Recommends me to Tom Grundner, editor-in-chief of  Fireship Press a small publisher of historical fiction and nonfiction based in Tucson, Arizona.  Who loves my work, who gets it, who wants to publish my entire series!  I sign the contract and although I get no advance, I don't care.  I get the standard percentage of royalties.  I have beaucoup editorial freedom.  My editor answers my phone calls and emails. Strike the bell, fire a salute, serve up an extra ration of rum!
April, 2011: Fireship Press publishes Surgeon's Mate, the sequel to Star-Crossed.  Surgeon's Mate; book two of the Patricia MacPherson Nautical Adventure Series is available in trade paperback and electronic format worldwide!  The Fireship may be a small press but she is seaworthy.  She has sails and an able crew and she travels the world, which is ¾ water.  And she will publish book three of the series next year.
Oh, btw, should any flesh-and-blood literary agents happen to read this, I am no longer seeking representation for the Patricia MacPherson series, as I have a publisher, thank you very much.  However, if you're interested in representing some of my other work, let's talk.  Send me a one page query with clips via my website.  Or friend me on Facebook.  Experienced agents seeking a long term relationship with a tried and true author will be given due consideration.  Winking and smiling ;)