Gun drill aboard the U.S.S. Constitution  on YouTube!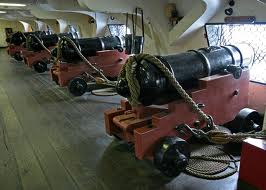 Thanks to British author Alaric Bond for bringing to my attention this YouTube video of the firing of one of the cannons aboard the U.S.S. Constitution whose home port is the Charlestown Navy Yard, Boston, Massachusetts.  I had the opportunity to visit this historic frigate several years ago with my sister Bonnie but we did not at that time witness the firing of the guns.  I'm finding YouTube offers a lot in the way of research for my historical novels!
"TWO – SIX – HEAVE!"  The gun crew calls out to keep their hauling efforts in unison.
Reminds of my three weeks aboard HM Bark Endeavour replica.  We voyage crew were taught to haul sheets and halyards using those same words.  (See my earlier post about how my experiences aboard Endeavour led to the publication of my frist novel, Star-Crossed   The Patricia MacPherson Nautical Adventure Series isn't about the Endeavour or Captain Cook but it inspired a historical fiction series and provided me with needed details for a realistic setting.)
We also witnessed the firing of the Endeavour's guns in the middle of the North Pacific Ocean at the order of Captain Chris Blake.  First, the bosun launched the Zodiac (a 20th-century anachronism) and placed a large biodegradable bit of  floating rubbish some distance away off the larboard side of the ship.  I recall the enemy vessel even flew skull and crossbones colors, hastily fashioned from a paperbag and a few strokes of black paint.    The Endeavour's gun crew then fired at it  using a process similar to the video.  We onlookers watched the red wooden carriage leap back against its ropes as the spark ignited, the powder exploded and the 4 pound iron ball splashed just short of the cardboard enemy ship.   The smell of burnt black powder lingered as the gunner sponged the hot barrel. Another shot sunk the bit of flotsam to the bottom of the ocean and a collective cheer, a wild huzzah rose up out of our throats, unbidden.
Days later we we sailed through the Alenuihaha Channel between Maui and the island of Hawaii, cruising along the northwest coast of the Big Island where the gun team fired a customary salute (without accompanying cannonball but which none-the-less must have startled the 20th-century guests lounging at the nearby Mauna Kea Beach Resort) as we sailors prepared to drop anchor off Kawaihae after nineteen days at sea.
Such recreations bring history alive for the writer as well as the reader of history.   A good re-enactment is worth a thousand words!