"To this day, we don't really know who won the War of 1812.  According to Jamie Trost, a naval history enthusiast who has captained Lynx in both Pacific and Atlantic waters, there are three answers.  Trost says:
The British perspective is:  What war?  They barely acknowledge it happened.  The Canadian perspective is:  America attacked, Canada defended, and America retreated no less than 13 times.  The American perspective is: We don't remember much about that war, but we're damn sure that we won it."
– from America's Privateer; Lynx and the War of 1812 by J. Dennis Robinson
That's the average American for you! (Like Sweet Baby James used to sing, Don't know much about history, don't know much biology…)  I don't pretend to be a historian either, but I damn sure am working on it!
I was born in Baltimore where everybody knows at least one thing about the largely forgotten War of 1812 —  that Francis Scott Key wrote a poem while detained on a British ship during the bombardment of Fort McHenry; a poem that would be printed in newspapers, sung to the tune of an English drinking song and voted our National Anthem more than a hundred years later, in 1931.  I admit to becoming emotionally labile whenever I hear The Star-Spangled Banner sung at the beginning of a baseball game or at the Superbowl half-time show, I've been known to tear up.  (Another song I learned growing up in Maryland was The Battle of New Orleans:  In 1814 we took a little trip, along with Colonel Jackson down the mighty Mississip'We took a little bacon and we took a little beans and fought the bloody British in the town of New Orleans…  Again, the words of this song suggests that the rednecks not the redcoats won the battle, if not the war!)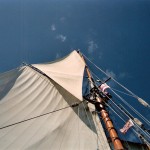 This year, 2012, we commemorate the bicentennial of the War of 1812, a war fought for free trade and sailors' rights, a war fought in part, by letters-of-marque and privateers.  For those of us who love ships and are interested in maritime tradition, the commemoration of this war will be a chance to rediscover history.
Having been aboard the schooner Lynx a few years ago, I was eager to buy this book when it came out.  Though the modern Lynx is not exactly a replica ship, nor is she a privateer, she is none-the-less an active "tall ship" (I dislike that dumbed-down term, but find myself using it!) that promotes traditional sailing and America's maritime heritage in the 21st century.  On a day sail out of Kawaihae Harbor Bob and I helped raise sail, we listened to several crew members in period dress tell us about their duties and we witnessed a firing of one of the six-pounder carronades by a handy female gunner.
America's Privateer is a book about the "forgotten war" and the privateers who assisted America's  fledgling navy.   It's the story of the original Lynx, a licensed letter of marque "created to carry cargo swiftly under wartime conditions, and if need be, to run an enemy blockade or capture a ready prize" — and today's Lynx,  inspired by and similar to the original —  custom-designed by legendary Melbourne Smith,  designer and builder of historical ships including the US Brig Niagra, Californian, builder of the Pride of Baltimore, designer of the Spirit of Massachusetts and Maryland Federalist, and a consultant for HM Bark Endeavour,
Today's Lynx is the result of one wealthy adventurer's dream, a man to whom history matters.  As any boat owner knows, boats are expensive to maintain, they are labors of love.  (I, for one, am glad Mr. Woods put his money into a sailing, living history museum rather than a racing yacht or a football team.)  The book, published by The Lynx Educational Foundation, tells the story of both Lynxes, why the war of 1812 matters and how today's Lynx teaches maritime history and heritage.
Robinson says, "Today's privateer Lynx is not on a mission to prove that America won the "Forgotten War," but rather to remind us why we fight for liberty in the first place.  It is precisely because the War of 1812 is unfamiliar to all but a few naval history buffs, that it is the ideal backdrop for a fresh conversation about the very meaning of freedom.  Lynx is on a mission, we might say, to incite America to discussion.  The enemy this time is not the British, but our own complacency and forgetfulness…
Current attacks at sea bear a haunting similarity to those of the early 19th century.  Private security companies are at this moment trying to re-establish the "letter of marque" system that would allow privateers to take on 21st century pirates in Somalia and elsewhere" (pg. 148).
Will privateers make a come-back?  Should they?  Is it even possible in today's world?  I don't know, but America's Privateer is a book to read and ponder and if you get the chance to sail aboard her, don't pass it up.