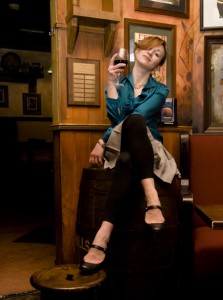 "Dublin is a grand place for an Ulsterman to get executed.  Those not fortunate enough to have been born in the city of a thousand hurdles may seek consolation in the possibility of dying there."  —from  Martyrs and Traitors: A Tale of 1916 by Marina Julia Neary.   
Marina Julia Neary is the author of four historical novels, two plays and a collection of poetry.  She is also an actress and a model, when called upon, and perhaps a bit of a revolutionary herself.   Her fiction focuses on personalities, relationships and motivations and how those forces interact to direct history.  I feel like she was close friends with her characters, like she knew them personally, all their quirks and weaknesses as well as their strengths.
On a recent trip to Dublin I took along Martyrs and Traitors, Neary's latest historical novel that examines the life of Bulmer Hobson, a former Quaker who became a key leader in the Irish nationalist movement in the period leading up to Ireland's 1916 Easter Rising.  Reading Martyrs and Traitors while in Dublin kept the characters and the history ever close at hand. (We even took the train to the seaside village of Howth  where Bulmer arranged to have the guns smuggled.)
I first met Marina through Fireship Press, publisher of three of Neary's historical novels; Wynfield's Kingdom, Wynfield's War, and Lady with a Lamp: An untold story of Florence Nightingale.  Marina and I began chatting online (I was fascinated by her in-depth knowledge of different historical periods as well as her unusual, somewhat dark perspective and  I wanted to know how she knew so much about the different eras and events she chose to portray.)
Marina, you write about Dublin and the Irish Revolution so knowledgeably," I say. " What is your connection with the Irish?
"They are my spiritual family," she answers. "I was "adopted" by the Irish.  My husband is Irish-Ukranian."
Our online messages evolved into a set of questions and answers in which she expounds.
Let's start from the beginning:  Marina, where were you born?
I'm from Chernobyl area.  Still waiting for my third arm to grow.  I remember my classmates passing out and suffering from severe nosebleeds.  While American girls ask each other: "Does my ass look big?" my classmates would ask each other: "Do my lymph nodes look big?" My childhood experiences stirred in me a certain fascination with disasters – ecological, industrial and political.  I was a very nervous, sad, angry little girl with a vivid imagination, a dark sense of humor and a talent for making enemies.  Rivalry and animosity are subjects I understand very intimately.  Creative writing teachers say you should "write what you know" – so I follow that advice.
My parents were classical musicians.  My mother was a concertmistress, a taciturn sickly kitten with big eyes and sharp claws. When she was done tearing you apart, she would lick her bloodied whisker-pads contentedly.  My biological father was an operatic coach, a flamboyant, bubbly nationalist.
How did you become a writer?
When you are so violently at odds with your peers, when you swim in a sea of antagonism, you have no choice but to become an artist. I'd love to be a painter, but I have two left hands, and both grow out of my arse (pardon my French).  I can't draw a straight line.  Yet the need for visual expression must be satisfied. I always had a cinematic imagination, so I envisioned stories as colorful pictures, with microscopic detail. I heard every voice, every accent.  I've always been fascinated by history and had so little interest in the world of my contemporaries.  I found inspiration in Neo-Victorianism, French Romanticism and Irish nationalism. When you have no social life, you have all the time in the world to perfect your art.
When I'm not writing or researching, I do what most working moms do.  I have a totally traditional family and a day job.  After 10 years in the corporate world, I'm not working in the non-profit sector. It's a mission-driven agency to help children who have emotional problems.  As a teenager, I probably would've benefitted from their services myself.  But yes, I do have a day job, and I'm thankful for it.  A girl has to eat, and she has to feed her child and cat.  Every once in a while I do modeling gigs to make some extra cash.  My husband and I were in a few independent films.
 What prompted Martyrs & Traitors?
Bulmer Hobson made a cameo appearance in my novel "Brendan Malone: the Last Fenian".  I wrote the first draft of "The Last Fenian" in 1997 and abandoned it on the account of negative feedback from one of my college professors.  13 years later, while purging my hard drive, I accidentally stumbled across the old manuscript and decided it was worth dusting off, polishing and submitting.  Well, what do you know?  A month later it gets accepted by All Things That Matter Press.  The very same night I had a dream about Bulmer Hobson coming to me and reproaching me for giving him such a minor role.  He said to me in his brassy Belfast brogue: "Without me the Irish Republican Brotherhood would've died."  Hobson was known for being a bit egotistic and claiming credit for various achievements on the nationalistic front – not always unfairly.  He did contribute a great deal, but his contributions were swept under the rug by the De Valera administration due to Hobson's refusal to support the Easter Rising in 1916.
In my defense, when I started writing "The Last Fenian" in 1997, there was no comprehensive biographical source on Bulmer Hobson.  There were brief blurbs in various historical textbooks, but nothing definitive.  Only a few years ago did a Canadian historian by the name Marnie Hay publish Hobson's biography.  I took it as a sign that time has come for me to write a novel in which Hobson would be the main character.  He is such a controversial, romantic figure.  Various sources describe him as bright, handsome, idealistic and … sexually naive.  The last trait does not exactly set him apart from his contemporaries.  He was born in Northern Ireland during the Victorian era.  His English mother was a radical feminist, but she still had a fairly traditional family life.  Her three children were raised to believe in equality of genders, but they were still expected to abide by the sexual norms of the day.  Through his nationalistic activities, Hobson came in contact with women who were rebels on more than one front.  All this was excellent material for a work of fiction.  I feel truly honored that Hobson's soul came to me of all potential writers.

What's next, Marina?      
Right now I am working on "Tears of Emer", the story of Helena Molony.  In "Martyrs & Traitors" she is one of Hobson's main love interests.  She entered history as one of the most militant Irish rebel women, a feral cat who never thought twice about resorting to physical violence in the name of her cause.
(And here Marina divulges a bit more, but I don't want to spoil it!)