HM Bark Endeavour is a working replica of the ship British explorer and navigator Capt. James Cook commanded on his first voyage around the world (1768-1771) .
Twelve years ago today Bob and I disembarked the bark after spending 3 weeks as 18th-century sailors.  ( Watch this short YouTube video for a glimpse of what we experienced.  HM Bark Endeavour 
I heard about the ship's circumnavigation in the newspaper:  "Help wanted: Deckhands to man floating museum…a once-in-a-lifetime opportunity to sail as crew on Endeavour, the replica of Capt. James Cook's ship that will visit Hawaii in November.   Crewmembers sleep in hammocks slung together on the lower deck.  They must be prepared to go aloft and work the sails at any time of day in any weather, not suffer from chronic seasickness or fear of heights, and be physically fit.  Sailing experience is not essential…"  Bob and I signed on for the experience of a lifetime.

Aboard the Endeavour Replica 54 of us lived the lives of 18th century sailors (with a few modern conveniences such as heads, showers, and back-up diesel engines.  We were not made to eat ship biscuit and salt beef!)  Females were expected to do the same work as the males, from climbing aloft to make and furl sail to heaving and hauling on braces and halyards.  It was at times terrifying, exhausting, tedious, exhilarating and the commeraderie we established with our mates was intensely rewarding.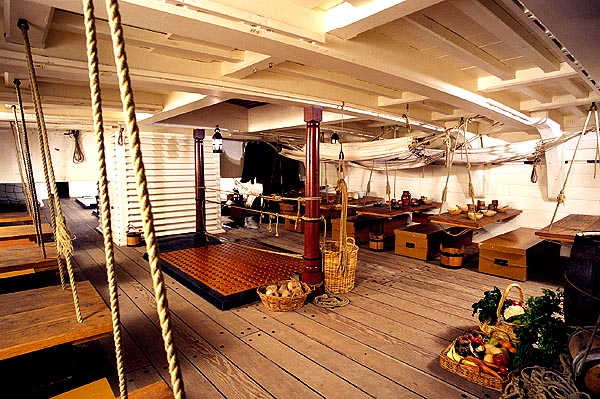 The idea for my character Patricia was born in the middle of the north Pacific Ocean.  I was at the helm of Endeavour, I was steering the ship, keeping her on course, thinking what it might have been like to have been alive in the 18th century, to have been a woman on a ship like this.  Not as a passenger but as part of the crew.  In writing the Patricia MacPherson Nautical Adventure Series I wanted to explore what it might have been like to have been a young woman aboard a ship during the Age of Sail.   All those stories about girls dressing as boys and going to sea – maybe they weren't just stories.  After all, here I was doing a man's work, wearing a man's clothes, sleeping in a swinging hammock next to my male watch mates (one of whom I was married to.)  Star-Crossed would be more than six years in the making but when I got off the ship in Kona, Hawaii I took the heart of the story with me.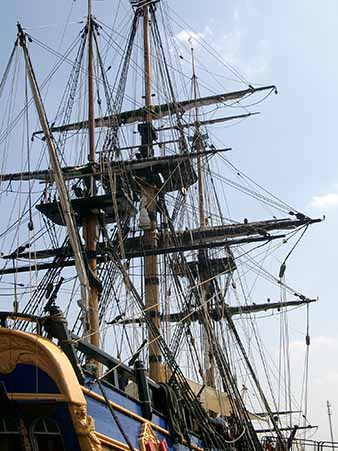 After circumnavigating twice, the Endeavour Replica, built in Fremantle, is now moored permanently in Sydney, Australia.
Here's the link again, to the video.  HM Bark Endeavour