Barbados Bound has been a dozen years in the making, reborn and rising out of star-crossed ashes to take flight. Or should I say, set sail. Here's a little back story:
Star-Crossed, my first historical novel, took seven years to gestate. From its conception in 1999 aboard the Bark Endeavour on a Pacific crossing from Vancouver to Hawaii, to its publication in November, 2006 by Knopf, the long literary pregnancy was an exciting time for me. A time during which the study of maritime history became my pursuit, rising out of a lifelong interest in history and literature — and a more recent interest in all things nautical. In writing my first historical nautical novel I learned the ropes right along with Patricia, who sneaks aboard the merchant ship Canopus, along with the prostitutes. Rather than wait until I was an expert (if ever I would be!) I wrote (and still do) on the learn-as-you-go plan.
Goethe is purported to have said, Whatever you can do or believe you can do, begin it. Boldness has genius, power and magic in it.  Like my bold, brash protagonist, Patricia, I took those words to heart and plunged in.
After three years I had a working manuscript. In 2003 I attracted an agent at the (former) Maui Writers Conference Manuscript Marketplace. Her name is Laura Rennert and she is with Andrea Brown Literary Agency in California. Rennert sold my novel to Knopf Books for Young Readers, as a Young Adult Historical. On the one hand, I was elated. Knopf was a big, New York Publisher. On the other hand I was concerned. I had not written the book as a young adult novel, but in the vein of an 18th century novel in which the protagonist tells her episodic story from a narrow and subjective point of view. No matter – Knopf offered me a nice advance. It wasn't the money, it was the name and prestige of Knopf that won me over. My editor, Michelle Frey, loved the story. She asked me to change a few scenes. But she wasn't thrilled about the working title, which was Orion Rising.) She and her colleagues got together and came up with the title Star-Crossed.
"Sounds like a romance novel," my husband groused. I tended to agree, but I didn't put up a fight. Orion Rising was published as Star-Crossed in 2006, and in 2007 The New York Public Library chose it to be among the Books for the Teen Age. Yet the majority of my followers are adults, or very precocious teens. There are no vampires or werewolves aboard. Meanwhile, I had written the sequel, Surgeon's Mate. During the time my manuscript was accepted and when it appeared in print, two years passed! Whoever made up the expression "in a New York minute" wasn't working in the publishing industry, I can tell you that. But Knopf wasn't interested in the sequel, having purchased Star-Crossed as a stand-alone novel. My agent didn't want to represent the sequel, since the original publisher turned it down.
And so Surgeon's Mate languished on the shelf until Tom Grundner, founder of Fireship Press, discovered it in 2010 and offered me a contract for it — and for Star-Crossed, as soon as it went out of print with Knopf. Tom wanted to publish both books as adult historical fiction; the first two books in the Patricia MacPherson Nautical Adventure series. How did Fireship Press find out about Surgeon's Mate? I had posted on my Facebook profile that I was looking for a publisher. David Hayes, who lives in England and who is the creator of a website and forum called Astrodene's Historic Naval Fiction saw my profile and alerted Tom Grundner, who wrote me via my website. The following year, Surgeon's Mate was published under the Fireship Press label.
Meanwhile, Star-Crossed sales were dropping. In 2011 it was technically out of print. When this happens the publisher can either re-release the book, sell the rights to another publisher, or grant the author a reversion of rights so that she can self-publish or contract with another publisher herself. My agent had dropped me, gone in search of more lucrative clients, and I wasn't hearing anything from Knopf, so I assumed they weren't going to do anything more with it. For the bean counters at Knopf, Star-Crossed was indeed ill-fated. At first it was nearly impossible to obtain the reversion of rights. I could not get through to my former editor at Knopf, the young woman I had spoken to many times on the phone, throughout the editing process. I could not penetrate the stone wall, I could not get past the operator and the voice mail system. My emails remained unanswered, as did several letters typed out and sent by United States Post Office. I was dead to them. What to do, short of flying to New York City and storming into the lobby, only to be apprehended by armed guards and hustled out? But I would not go down easily. I would have my story back! I joined the Author's Guild and emailed a letter to one of their attorneys, asking for advice. Within 48 hours I had a response from Anita Fore, Director of Legal Services, explaining in a detailed email, who to ask for at Random House (parent company of Knopf) and how to phrase my letter. This time I made contact, and received a reply. I kept in contact with this person and within a few months I received a reversion of rights. Author's Guild has since advised me on my contract with Fireship Press.
Meanwhile, I was revising Star-Crossed. In some cases I was putting back in some of the original wording edited out for the young adult market Knopf envisioned. I had the opportunity to correct several anachronisms. One was the mention of Lourdes by Dr. MacPherson. The miracle at Lourdes did not take place until 1858 — nearly a century after my story, a fact noticed by an alert librarian in Falling Waters, West Virginia. Mea culpa! Fellow nautical writer and friend Rick Spilman took issue with my use of the word "battleship." as being ahead of its time. They simply weren't called battleships in the 18th century. And so I changed my battleships to warships or ships-of-the-line. Several readers took me to task because Brian Dalton smoked aloft in the rigging of the merchant ship, while it was at dock. He also smoked on the leeward side, while at sea. (The guy has a real nicotine addiction!) These readers were adamant that this would not have been the case. In my research I found that aboard British Navy ships of the period, smoking was only allowed around the galley stove, for the obvious concern of a fire being started by a stray ember. It was only allowed under certain conditions and seems to have been a privilege and not a standard practice. In Barbados Bound, I have substituted chewing tobacco, common in the era, for the pipe, while aboard ship.
In my revisions I also took the opportunity to tweak and prune here and there, as authors are wont to do. Barbados Bound is the book I meant Star-Crossed to be; an historical, coming-of-age adventure, written for adults or teens, whoever wants to read it. I did not write for a market, I wrote for myself, to explore what it might have been like to have been a young woman in those times. I chose Barbados Bound as the new title because it best expresses the protagonist's desire and purpose, and because it has a hopeful expectation about it. And the alliteration is pleasing. Most of all, it is so much more optimistic than star-crossed.   Anchors a-weigh!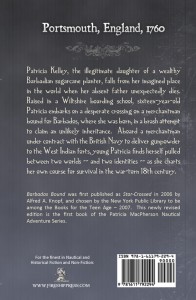 Barbados Bound and Surgeon's Mate; book two of the Patricia MacPherson Nautical Adventure Series are available from Fireship Press, and fine bookstores worldwide.