I've been tagged twice for a round-robin blog called The Next Big Thing; once by Alaric Bond and once by Helen Hollick, authors I've had the pleasure to have met in person.  Bond's tag came right as I was traveling, and Helen's tag the other day prompted me to do my part and post my answers.  This comes at a good time as I'm working to finish the manuscript for a novel that has been in the works for some time.  It is NOT book three of the Patricia MacPherson Nautical Adventure Series, who has set off for Havana, but we'll get back to her later…
Ten interview questions for The Next BIG Thing:
What is the title of your book?
The working title is "The Good Fortune".    (At least, that's what I'm calling it this week!  What do you think?  The other titles I've been considering are Lucky Dragon and Blue Milieu.)
Where did the idea of your book come from?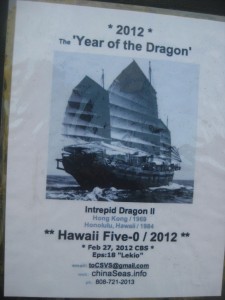 A listing junk moored at the Ala Wai, covered with blue tarps and seemingly teeming with ghosts.  You know me, I'm obsessed with nautical settings.
Under what genre does your book fall?
It's a mash-up between psychological/paranormal thriller-at-sea, and historical novel.  As it is a story within a story, the one within is historical.  Oh, and it features teen protagonists, so it might be YA.
Which actors would you choose to portray your characters in a movie rendition?
Unknown, emerging actors and actresses.  This would be their breakout movie, sure!
What is the one-sentence synopsis of your book?
A troubled boy enrolled in a summer sailing program for problem teens discovers the ship to be controlled by Chinese ghosts and sailing to its doom.
Will your book be self-published or represented by an agency?
James Schiavone, my current agent, is eager for me to complete this manuscript.
How long did it take you to write the first draft of your manuscript?
Well let's see… I've been working on it for about three years now.  I hope to have a working draft to show my agent by the end of the year.  This year!
And the intro?
Wanted: Adventurous teens to crew a traditional Chinese junk exploring the equatorial Pacific.  Learn to work as a team; develop mind, body and spirit.  An unparalleled summer program designed for teens who need a challenge.  No prior sailing experience necessary.  http://theGoodFortune.chn 
Who or what inspired you to write this novel?
A ship I felt certain was haunted – and the disaffected voices of American teenagers — combined to create a frightening premise.  Being on a ship at sea — even a ship that is not haunted — can be scary.  For instance, if your electronics go then you are out of communication with the rest of the world, floating on an enormously powerful force.  You could be in any century, if your modern equipment fails.
I love psychological novels.   When I was a nurse I worked for a short time on the psychiatric unit and have a passing familiarity with some of the disorders.  Also, I have been on a boat in the middle of the Pacific Ocean, becalmed, and felt so completely powerless.  These factors, these experiences drove me to exorcise the demons by writing a rather fantastic story.  The narrator is terribly unreliable, however.  So you don't really know if the ghosts are real or not.
What else about your book might peak your readers' interest?   
In writing this book I take on a troubled boy's persona, it has been taxing.  I've had to learn some Chinese history, and of course have gotten side-tracked in that deep, long, fascinating subject.  I do hope you'll feel as chilled when you read it as I feel when I'm writing it.  The process has given me a new appreciation for the meaning of time, of the Individual, of heaven and hell.  I now wear a jade Quan Yin, goddess of mercy amulet around my neck to protect me from the shuigui who haunt my characters.  (Does anyone know where I might obtain a Tianfei, goddess of the sea, amulet?  Because we're gonna need it!)
The rules of the Next Big Thing game say that I tag five authors.  This sounds vaguely like choosing teams for dodge ball in junior high, but I'm going to tag Margaret Muir, Joan Druett, Susan Keogh, Barbara Peacock, and J. David Davies.   Do you know what these authors have in common?  They all write nautical historical fiction.   OK, let's see who wants to play…