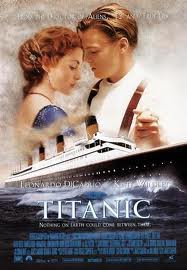 I dreamed I boarded the Titanic, a mile above sea level in Denver, Colorado.  You know how dreams can be, mixing time and place in creative, seemingly impossible ways you never would have thought of on your own.
Only this wasn't a sleeping dream, but a wakeful, dream-like Experience.  This was my surprise birthday party (I'll let you guess the year, I'd as soon forget it), dreamed up by Mr. Russell, my darling husband of nearly 21 years.  Also known as Bob.
"Good evening Madam, and welcome aboard the Titanic."  A stout gentleman dressed in white coat greeted us with a bow as we stepped off the elevator on the seventeenth floor of Denver's Daniels and Fisher Clock Tower, on Sixteenth Street in Denver, Colorado.  The Clock Tower is a Sixteenth Street landmark I was familiar with, having passed it many times –yet I had never been inside.  I had no idea it was a TARDIS.  A time machine.
[An aside: Three hundred and twenty-five feet tall, the D & F clock tower, completed in 1911, was the tallest building west of the Mississippi for three years, until surpassed by the Smith Tower in Seattle. Designed by British-born architect Frederick Sterner and fashioned after the campanile of Piazza San Marco, Venice, the landmark edifice towered over the adjoining five- story Italian Renaissance Revival building that housed the Daniels and Fisher department store, which unfortunately was torn down in the urban renewal insanity of the 1960's. The tower alone was saved from destruction and is on the National Register of Historic Places. The steel structured tower, faced with blond brick and terra cotta, features four Seth Thomas Clocks and a six-foot, 5,500 pound bell made in a Baltimore foundry, the largest bell west of the Mississippi.  I was born in Baltimore. ]
In the 'sixties William S. Pierson operated KBPI radio station out of the D&F building, with the antennae in the tower.  When the building was condemned, Pierson refused to vacate. For five years he continued to operate out of the historic building, and according to author Mark A. Barnhouse, he climbed the 394 steps every day to wind the clocks. (Mark A. Barnhouse. "Denver's Sixteenth Street".)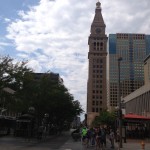 Why didn't he take the elevator?  Maybe it had been shut down, because the building had been slated for destruction.  Luckily the tower was saved by Denver preseravationists.  Today, it houses Lannie's Clocktower Cabaret, in the windowless basement, a cabaret owned by actress/singer Lannie Garret. There is also a residential apartment, purportedly for sale, listed by Sotheby's…]
But back to our Titanic party, on the upper floors of this iconic portal to other times and places. I thought to myself, he's done it.  Bob has pulled it off!  A  themed party in my honor.  A titanic birthday celebration with an ironic twist: The ship was grounded like the Ark, a mile above sea level, on the upper floors of an historic landmark. [another aside: This is the party I always wanted to throw in honor of Bob's birthday – April 14 – the night the Titanic struck the iceberg, at 11:45.  Now that he's scooped me, I'll have to settle for a Lincoln assassination party…]
Was it really a surprise?  Well, not entirely. Being the clever, intuitive wife, I knew he was planning something special to celebrate my birthday this year.  Excitement was afoot, as evidenced by a constant flurry of phone calls and text messages two weeks prior to the big day (August 16, for future reference…)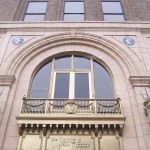 "Honey," I suggested.  "I know you're planning to surprise me but you must give me some little clue.  I need to know how to dress.  Swim suit?  Blue jeans and tee shirt? Fancy dress?"
"The latter," he said.  "And think, Edwardian Era."
"Like, Downton Abbey?"  (We're both fans of the show.)
He nodded but refused to elaborate.
Oh good, I thought.  I love to go time-traveling.  Shall I be Lady Mary?  Hmmm, it would probably be more age-appropriate for me to go as the Dowager.  Then again, in keeping with my ancestry, perhaps I should go as Mrs. Hughs…  But no – It's my birthday, I'll go as a Lady. Lady Linda. Even if I find my costume at a secondhand shop.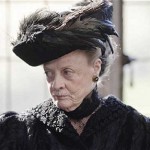 And so I dressed for the evening in clothing reminiscent of the period, showing off the elegant period necklace (definitely NOT from a second hand shop!) Bob had given me on the morning of my birthday, and wearing a fetching fascinator purchased at a hat store in Denver's Larimer Square.
Greg Carl, President and CEO of Epicurean Catering met us in the lobby of the Clock Tower and beamed us up to the seventeenth floor –which had been magically turned into a choice selection of first class accommodation aboard the Titanic. Here we met Jessica Stapp, the party coordinator, and Kevin, maître d' and historian, flanked by their mates, all dressed in white coat and tie.  I was presented with a rose and baby's breath wrist corsage, wished a happy birthday, and bid to come on board.
It felt like I was aboard a steamer as I was escorted to a narrow set of industrial steel stairs, complete with textured, nonskid steps, which looked and felt very much like a ship's companionway.  (Remember – we're at the upper end of a 20-story, 34'x34' tower.)  Steam pipes and valves added to the atmosphere.  Up we climbed to the nineteenth floor where we stepped up and over a bulkhead (which may have been a conduit encasing plumbing or electrical infrastructure) and low and behold, a bar was set up and I was offered a glass of rose champagne from white gloved hands and the contemplative sounds of a cello, expertly played, met my ears.  Small cocktail tables were set with arrangements of red roses, white hydrangea, Queen Anne's lace and summery fronds.
As if in a dream, Bonnie and Lorie materialized; my sisters who live on the East Coast, dressed in their Edwardian finery.  Exclamations of delight, followed by champagne toasts and first-class canapés (oysters on the half shell, Colorado lamb carpaccio, foie gras torchon, and truffled celery mousse).  We three Collison sisters, reunited aboard the Titanic; that was altogether unexpected!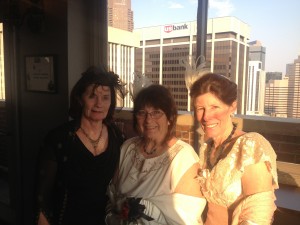 The other immediate family members tricked in, two by two; the men, handsome and dashing in tuxedos with tails, and the women, beautiful in their interpretations of 1912 fashion.  The cellist continued to play, working up a bit of a sweat in the mid-August heat, and we opened the doors on either side of the tower and a breeze slipped through and our parched throats were bathed in champagne.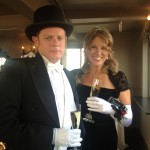 Our maître d', historian and story teller, Kevin Chavez, announced dinner and so we followed him down the companionway to the eighteenth floor where three tables had been set for eighteen guests in front of the clock face (photo). Here, the cellist was joined by two violinists and the enormous clock behind us was reminiscent of the Musee d'Orsay, a former train station in Paris. Very steampunkish, gears visible, black hands slowly revolving, a backdrop with a momento mori to the passage of time and the brevity of life.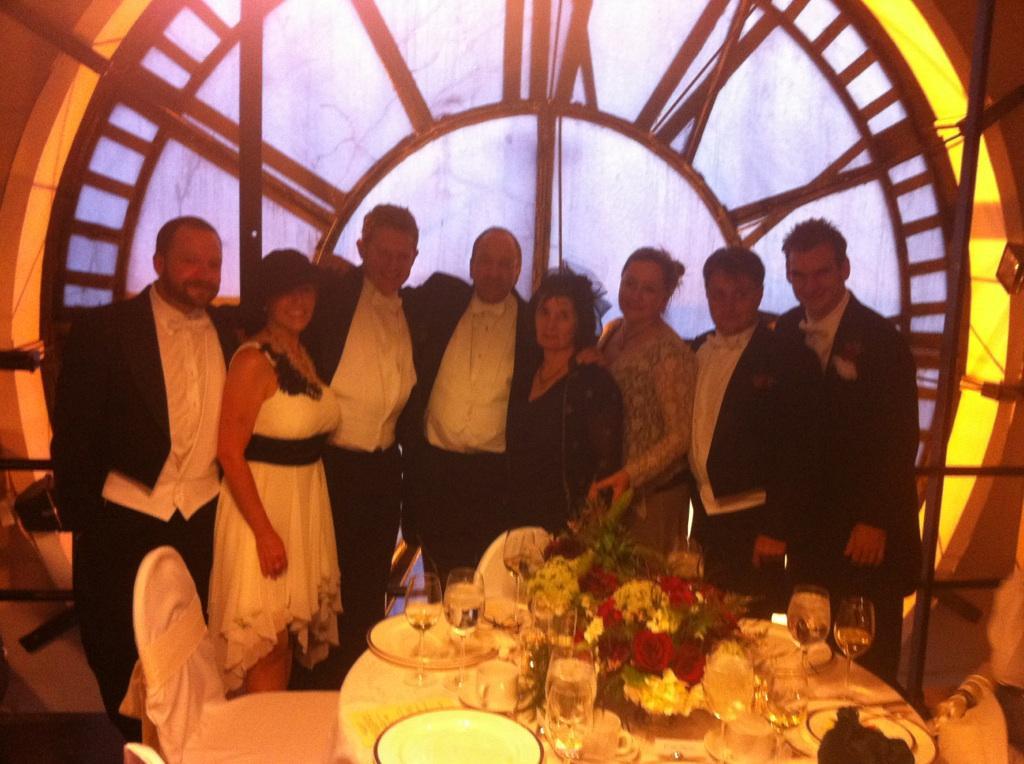 The chef, Jenna Johansen, made an appearance to brief us on the nine course meal we'd be enjoying; a gastronomic extravaganza inspired by  the last dinner served to the first class passengers aboard the Titanic that fateful night –and each course paired with the appropriate wine as chosen by sommelier, Annie Shoemaker.  This had been Bob's idea, to recreate the menu, based on the book "Last Dinner on the Titanic" by Rick Archbold and Dana McCauley.  Mr. Chavez kept us riveted between courses, with stories about the Titanic, and Captain Arthur Henry Rostron, captain of the Carpathia, the Cunard line passenger ship who diverted course and rescued 705 of the survivors in lifeboats.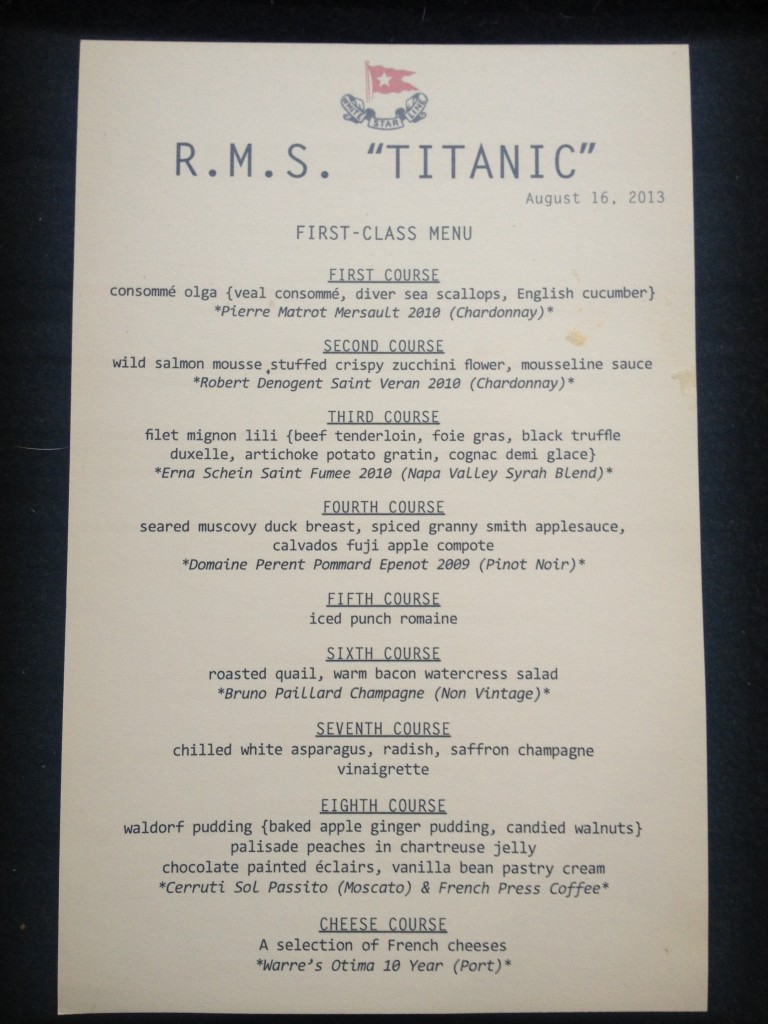 After dinner, down on Sixteenth Street, the younger generation waiting in their finery for horse-drawn coaches to take them to the after-party at the Oxford, we spied another character from the past.  A girl with a typewriter, improvising poems.  Just like an 18th century broadsheet balladeer, I thought.  I must have one.  Youngest son Matthew, sporting a top hat, white gloves and walking stick, paid the struggling artist a tuppence to compose his mother a birthday poem about sailing.  Here is what she wrote:
Sailing
A cool wind
Breathes through me
And I am
The master
Of this vessal
Slicing harp-string
Destiny
Carrying
Me further
Along the water's
Belly button.
 by Abigail Mott
Denver, CO 8/16/13
August, 16.  The last two digits of the year are 13, yes.  But what century are we in?  Surely not the twenty-first!
As the youngsters made off in their carriages, I was whisked away in my coach, which had turned back into a Subaru Outback, at the stroke of midnight.  But no matter.  I was with my Prince Charming. We had an amazing party and survived the doomed Titanic.  What fortune!
Thanks to my husband Bob and my entire family for making this celebration possible.  And to the Coordinator Jessica Stapp; Maître d' and story teller, Kevin Chavez; Innovation Chef, Jenna Johansen; Captain, Joel Villescaz; sommelier, Annie Shoemaker; Chef, Elmer Pacheko –and 14 more unsung staff of Epicurean Catering, to serve 18 lucky guests.
Maybe next year we can have a Survivor's Party?