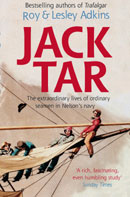 Thanks to Lisa Goodwin, the Women who Sail New England and the Between the Lines Book Club for inviting me to your discussion of The Surgeon's Mate!  As promised, here are a few of the most readable nonfiction books that inspired my research and writing of Star-Crossed, and the Patricia MacPherson Nautical Adventures. I am a true historical nerd and nautical geek, but I think these might appeal to some of you.
Female Tars; Women Aboard Ship in the Age of Sail by Suzanne J. Stark. Naval Institute Press, Annapolis, Maryland, 1996.
The Lady Tars: The Autobiographies of Hannah Snell, Mary Lacy and Mary Anne Talbot. Edited, with foreword by Tom Grundner. 2008, Fireship Press.
The Wooden World; An Anatomy of the Georgian Navy by N.A.M. Rodger. 1986.
Jack Tar; The extraordinary lives of ordinary seamen in Nelson's navy by Roy & Lesley Adkins. 2008.
The Life and Adventures of John Nicol, Mariner. Edited and with an Introduction by Tim Flannery. 1997.
The Wynne Diaries; The Adventures of Two Sisters in Napoleonic Europe edited by Anne Fremantle with an introduction by Christopher Hibbett. Oxford University Press, 1982.
There are so very many more…
Fair winds, following seas, and happy reading!