My reflections on the 2014 Chesapeake Writers Conference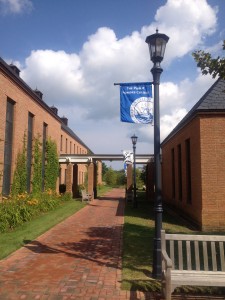 In a nutshell:
6 days and nights/$750; not including optional lodging and meal package.   Award winning faculty included Patricia Henley, Matt Burgess, Ana Maria Spagna, Elizabeth Arnold, and Gerald (Jerry) Gabriel, who was also the conference director.
Disciplines: Fiction, creative nonfiction, and poetry. Offered course credit.
Focus: Geared to emerging writers intent on improving their craft. Challenging workshops, lectures, craft talks and readings in a nurturing and inclusive environment. One discussion featured Mitchell Waters, a literary agent from Curtis Brown, and John Peede, the publisher of Virginia Quarterly Review, with personal ten minute interviews following. Another panel discussion about options in publishing for emergent authors, in which I was asked to participate.
Setting: Isolated setting at historic St. Mary's campus on the shores of the St. Mary's River. Student housing facilities and cafeteria meal plan were optional and are recommended, as there are few lodging and dining opportunities in the immediate vicinity. If you're looking for night clubs, shopping and fine dining, this is not the conference for you.  On the other hand, the conference offers organized recreational activities and night time social gathering on the shores of St. Mary's River.
My favorite activity: The daily three hour intensive workshops. I chose Matt Burgess's group and was not disappointed. Besides being a good writer himself, Matt clearly has an academic background and has led many writing groups. His detailed written critique of my short story was both thorough and insightful.
My favorite lecture: Besides breaking into smaller critique groups, the week was filled with lectures, craft talks, readings, and small panel discussions, one of which I was asked to take part in. While these were all valuable, the opening talk by Patricia Henley was perhaps the most inspiring for me. Like attending a religious revival meeting, I re-dedicated myself to the writing life, vowed to make more time for writing and taking part in "the great conversation," as Henley called it.
My thanks to conference director Jerry Gabriel and his hardworking assistants who organized this event, one that exceeded my expectations.  My only advice to future attendees is to stay on campus and spring for the meal plan!
Faculty:
Jerry Gabriel (fiction)
Patricia Henley (fiction)
Matt Burgess (fiction)
Ana Maria Spagna (creative nonfiction)
Elizabeth Arnold (poetry)
Reflections…
In one of my imagined parallel lives I'm an award-winning MFA writer-in-residence at a small liberal arts college. But in this life — the one I'm actually living — I'm a jack-of-all-trades who has managed to cobble together an evolving career of diverse occupations, including freelance writer and novelist.  I have taken some undergraduate level writing classes, but mostly I learned to write by reading, writing, and participating in writing conferences and workshops, including Aspen, Steamboat Springs, Maui, Southwest Writers, Napa Valley, and Colorado Teen Literature Conference. Some of these were better than others but nearly all were useful to me at various stages of my career.
I chose to attend the Chesapeake Writers Conference this year because I was looking for a craft based conference in an academic setting. I felt this was what I needed to invigorate my own writing and to connect with like-minded writers and perhaps find new mentors. I wanted to come as a beginner, not as a published author with an established mindset. I wanted to leave behind notions of what and how I should be writing. I did not want to focus on writing for the market or selling to the market. I didn't want to practice my elevator speech or pitch to a bored agent. I wanted to hone my writing skills. (That being said, I was thrilled when literary agent Mitchell Waters asked to see one of the manuscripts I'm working on. The fantasy of a well-connected agent falling in love with my words and proposing commitment dies hard!)
I first heard about the Chesapeake Writers Conference on newpages.com.   2014 was its third year.  I wasn't familiar with the presenters, they weren't on any commercial bestseller list I was aware of, though they were all award-winning authors with much experience teaching creative writing.  For me, this was important. I didn't need to pay good money to swoon at the feet of a One Hit Wonder talking about how he wrote his breakout bestseller. I wanted nuts and bolts. I wanted trustworthy critique. I wanted to expand my circle of literary contacts.
Next, I sampled their writing to see if I admired it; to see if I felt I could learn something from these writers. Indeed, I did.
Another factor that swayed me was location. I was born and raised in Maryland, though I haven't lived there in many years. I felt a pull back to the state of my beginnings.
I decided to stay off-campus because my husband was flying in on Wednesday to join me, then we'd leave on Saturday, for Europe. In hindsight I should have elected to stay on campus; Bob and I could have shared a student townhouse. Instead, I booked a room at Island Inn and Suites on St. Georges Island, which was a nice venue with a lovely view — but a 25-minute drive from the conference. Also, I had a hard time finding places to eat.  Next door, the Ruddy Duck Restaurant and Alehouse, serves up good fresh food, including an authentic Maryland blue crab cake — but the hours of operation weren't conducive.  Like, where do I get breakfast and lunch? I passed plenty of bait & tackle shops and gas stations in this neck of the woods, but there was a dearth of coffee shops, cafes and charming bistros. I ended up drinking a fortifying peanut butter smoothie at the campus coffee shop every morning for breakfast, and dining in the cafeteria with my fellow writers –that is, until Bob joined me near the end of the week.
Coming back to my home state, writing in this lush rural setting on the Chesapeake Bay, under the direction of the excellent faculty proved to be just what I needed.  I've made new contacts, learned a new way to examine my own writing, and was reaffirmed in my own practice.  All in all, the conference exceeded my expectations. Now, back to my work, newly inspired.