After 18 years of owning Topaz, a Luders 36, Cheoy Lee-built sailboat, Bob and I have said goodbye, passing ownership to our friend John, who has helped us over the years to refit her and sometimes to sail her.  This is the best possible outcome for Topaz.  John will be able to spend more time aboard than Bob and I have been able to lately – in fact, he'll be living aboard.  We won't have to sell her to a stranger or watch her wither away in drydock.  This eases the pain.
Admittedly, there is a sigh of relief, as well.
We bought her in Hilo, back when we first moved to Hawaii.  Topaz was over twenty years old at the time, but had classic lines and was sea-worthy.  Rick Hays and his family had sailed her over from California and were in the market for a slightly bigger boat.  For Bob and I, she was love at first sight.
Hawaii is a tough place to keep a boat in the water; permanent slips are hard to come by.  The waiting list is long.  For the first few years we hopped around from harbor to harbor, sometimes hauling out to make modifications and repairs.  We replaced the standing rigging, refinished the mast, added some electronics, replaced the deck, replaced hatches; the list goes on.  At last our name came up for a slip at the Ala Wai Small Boat Harbor near Waikiki, on the island of Oahu.  Although this wasn't the island we lived on, we jumped at the chance and sailed over to claim our slip.
Topaz has been moored at the Ala Wai for over ten years now.  She has been our means of adventure as well as our little beach condo, our floating vacation home, just a 30 minute plane ride away.
Bob and I made many inter-island passages, across the renown Alenuihaha Channel between the Big Island and Maui.  In 2000 we sailed to French Polynesia in the South Pacific, stopping in Rangiroa in the Tuamotus, and visiting Tikehau, Moorea, Tahiti, Raitea, Tahaa, and Bora-Bora.
On our final cruise we sailed from our berth at the Ala Wai to Kailua-Kona on Hawaii Island (a.k.a. the Big Island) a distance of approximately 140 nautical miles.  It's a passage we've made numerous times over the past decade.  The voyage in that direction is "uphill" into the predominant trade winds, the channels between the islands funneling those winds into gales and a swath of confused seas.  Then you slip behind the lee of one of the islands where the breezes are light and variable.  If you're in a hurry, you turn on the engine and motor until you pick up the wind again.  There's little boat traffic to speak of, but you must keep a sharp eye out for the tug boats pulling barges, and for the occasional cruise liner or military ship.
We left the Ala Wai about 10:30 on a fair Tuesday morning, motoring to the fuel dock where we topped off the tank, bought a bag of ice for the cooler, some snacks and cold drinks.  We had plenty of water on board and nonperishable food to last a week or ten days, though the crossing was projected to take about 36 hours, based on previous passages.  We set sail with a single reef and rolled out about 60 percent of our jib, making six knots on a 20-25 knot wind.
Diamond Head, that grand old crater that stands as sentinel on the southern end of Oahu, was soon off our port beam.  I had a knot in my throat, knowing that this was the end of a chapter in our lives, an exciting chapter that had brought Bob and I close together as skipper and first mate, as husband and wife.  We have sailed her thousands of nautical miles, just the three of us: Me, Bob and Topaz.  Now it would be John and Topaz. 
The afternoon passed pleasantly, though I was glad for my scopalamine patch to keep seasickness at bay.  That night a nearly full moon rose early, before the sun had quite disappeared in a blur of blood orange clouds.  Terns and noddies swooped and dipped over the water, skimming the surface as they fished for their dinner.  Crossing the channels at night is exhilarating.  The helmsman steers to take some of the bigger seas on the quarter, when possible, and the RVG self-steering wind vane isn't much use because of the confused seas.  Every now and again, you hear a loud slap as the bow catches a wave just right and you duck, knowing you're about to be hit with about ten gallons of sea water. Aloha!!  Those sudden salt water showers are why, even though its Hawaii, the prudent mariner wears foul weather gear and a safety harness when on deck at night, in the channels.
I like to watch the phosphorescence churned up in the vessel's wake, little glints of blue-green lights, like sea-going fireflies.  I love the creaks and groans the old girl makes as she shoulders into the swells.  I love the sound of water hissing and swirling against the hull, and of the wind singing in the rigging,   however off-key.  The rattle of blocks and tackle is comforting.
Our compass course was 135.  We beat into and east wind, our course taking us far enough south to avoid the wind shadows of Molokai, Lanai, Koho'olawe and Maui, making 6 knots (nearly hull speed for Topaz), watched over by the constellation Scorpio, resplendent in the southern sky.
Just after midnight we saw a U.F.O.  We were  approximately 157 W, 20 5′ N; miles offshore, no vessels in sight.
"What the fuck is that?" John said, from the helm.  I hurried up the companionway.
Two very bright white lights approaching, low in the sky.  I thought, oh, a plane is landing. Except, of course, we were a long way from the nearest airport, and many miles from any land.  Then things really got fantastic.  In a matter of seconds the two lights came together, becoming one light. Or maybe one light moved directly behind the other.  Next the single white light rose rapidly, vertically,and disappeared into a cloud. Now, maybe it was the scopalamine making me hallucinate, but we both saw it.  Unfortunately Bob, our rational, ever-skeptical skipper was napping below, and missed the whole show.
I remember on another crossing seeing the Hale Bopp comet, a smeary swath of stardust in the northeast sky. And of course meteors are always a treat, when seen from the deck of a ship.  But nothing trumps a U.F.O.
Twenty-four hours after we started, we were three-quarters of the way home.  Peanut butter and honey sandwiches for breakfast – no one felt like cooking.   Still out of sight of land, the Big Island was shrouded in vog – volcanic "fog" produced from active vents on Kilauea.  And then, like somebody turned off the switch, we lost our wind.
This was expected.  It meant we were in the lee of the Big Island, where the looming volcanic mountains,
nearly 14,000 feet above sea level, block the trade winds.  We let out the sails to catch more air, trimmed the sheets, adjusted the course and plugged homeward.  Soon we weren't moving at all, but the ocean swells continued to roll in, rocking the boat and slamming the boom.  We rigged a preventer, but the sails were still flogging. Time to turn on the diesel engine.  Let's get this old girl to the harbor (Me, not the boat!)
Pushing the starter button, I heard that heart-sinking sound.  That cold, dead "click."  Damn!  What could it be?  We still had power below-decks and the voltmeter showed we had sufficient charge.  Bob and John ruled out the alternator and the batteries.  John was obsessed with the starter, I don't know why. He proceeded to take it off to examine it.  Meanwhile, we worked the little puffs of breeze that occasionally came along, with the irregularity of a dying man's breath.  At this point the current was taking us in the right direction, our GPS told us.
Becalmed at sea is a strange and unpleasant sensation.  The ocean is not smooth, it's not like floating on an inflatable raft in a swimming pool.  It's more like being rocked in a cradle by some crazed babysitter, who shakes you from side to side until your teeth rattle.  Yet you aren't going anywhere! Claustrophobia threatens to take over, at least in my case. Stranded on a small boat in a large ocean, and not going anywhere! I fought a rising panic.
While John was taking apart the starter, Bob went to inspect the three batteries in the starboard cockpit locker.   The boat started rocking again and the cockpit seat, which is the lid to the locker, slipped out of his left hand and crashed down onto his right wrist, breaking blood vessels and instantly resulting in a plum-sized hematoma.  He was fortunate no bones were broken, nor was the skin, but we applied pressure and a cold pack to stop the internal bleeding – he had quite a nasty bruise spreading.  The thorough inspection of the batteries that he was about to perform, was somehow forgotten.
All day, all night, and still no wind. We ate ham and cheese on rye with mustard, ghosting along every time there was a puff of air, on a favorable current.  I did a radio check, to make sure we could call for help if needed, and the Coast Guard in Honolulu said they heard us "loud and clear."  I thanked them and signed off.  We were not in trouble, not yet.  But we were essentially adrift.
The sun rose on a glassy sea.  It looked like liquid mercury, with no wind ruffles, just smooth and oily looking.  No movement of air to disturb it.  It was hot and sticky and we were all snappy with one another.  We kept trying to sail whenever the breeze was strong enough to warrant rolling out the jib, the better sail for Topaz in very light air.
By sunset we could see the lights of Kailua Bay, an anchorage near Honokohau Harbor.  By midnight we were about a mile off-shore.  Still no reliable wind.  Hopefully tomorrow morning we'd get enough of a breeze to get in and drop anchor.
But morning brought no breeze.  Instead it brought a change in the current, now taking us northward at a rather rapid rate.  A weak breeze came up and we set sail, but the current was stronger, we were caught in its grip, like a Star Wars tractor beam.   The Aliens had us in their grip!
I pretended I was back in a former century, before diesel engines and GPS; you might be at sea for weeks — months.  While we still had plenty of fresh water and a little food, I found I was very short on patience.  Bring out the sweeps!  Launch the dingy and have the seamen row us to shore!  Actually, there was a very real consideration. Bob was running low on his medication, a rather crucial medication that prevents his immune system from rejecting his transplanted kidney.  Although he had brought extra, the passage had already taken twice as long as we expected.  In another twenty four hours, he would be out.
Capt. Bob's plan was to ride the north-running current around the point of land that sticks out, just north of the Keahole Airport.  Beyond that point the wind blows pretty regularly, through the saddle between Mauna Kea and Mauna Loa. (Local knowledge.)  Once we picked up the wind we could sail north and anchor somewhere along the coast, possibly as far north as the port of Kawaihae, near our home – an eight hour sail in good conditions.  We could easily be home in twelve hours.  Or not.
Here's where Mama laid down the law. It would be wiser (and less expensive) to call for a tow now, I insisted, while we were close to Honokohau harbor.  Bob and John, the purists, wanted to sail in to port, and they were certain we could make it well within the next twenty-four hours, before the meds ran out.  But why chance it?  Why wait until we had a situation on our hands?  Do I need to pull ship surgeon's rank?  The men swallowed their pride and Capt. Bob begrudingly gave me the ok to call a friend on my cell phone to arrange for a tow.  Welcome back to the 21st century!
Two hours later we were docked at Honokohau Harbor, where a closer inspection of the batteries revealed the problem.  One of the lead terminals of the starter battery had broken completely off the battery case, probably during the rough channel crossing.  A closer inspection at sea might have revealed the damage, and the post might've been pressed back on, or a screw used as a temporary terminal.  As it was, a trip to the auto parts store and a new starting battery solved the problem.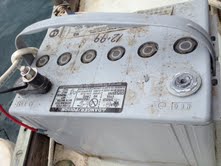 Now it was definitely beer-thirty. Time to close the deal, hand over the keys, and celebrate a successful passage.  Tomorrow John would sail Topaz around the other side of the island to her new home in  Reeds Bay in Hilo, where we bought her, eighteen years ago.  She will have come full circle.  As for Capt. Bob and I, we're about to begin a new chapter in our lives. I'm pretty sure it will involve boats, in some way.