Navy Wives Aboard British Warships
A critique of Jane Austen's Transatlantic Sister; The Life and Letters of Fanny Palmer Austen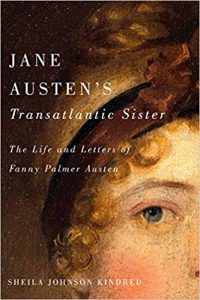 Jane Austen was a social realist in portraying everyday life of the gentry in England during the Georgian era. Two of her novels, Mansfield Park and Persuasion have nautical elements and naval characters.  Sheila Johnson Kindred, having studied the letters of Fanny Palmer Austen, Jane Austen's sister-in-law and wife of her younger brother Charles, an officer in the Royal Navy, reconstructs the brief life of this woman.  Based largely on correspondence from 1810-1814, and on Fanny's diary, she concludes that Fanny, who spent two and a half years living aboard ship with her husband, Captain of HMS Namur, was the basis for Mrs. Croft, the wife of Admiral Croft in her novel Persuasion.
Although officially prohibited from sailing on navy ships except by consent of the Admiralty or commanding officer, in reality women did sail and live aboard British Naval warships during the Georgian era –  as passengers and as wives accompanying officers, seamen, marines, and soldiers in transport.  Fanny Palmer Austen was one of these naval wives. The author posits that her sister-in-law Fanny provided Jane with a female perspective on naval life and society and was the inspiration for the female naval characters in Jane Austen's novel Persuasion, particularly Admiral Mrs. Croft, who remained with her husband throughout his career, living and traveling onboard with him.
Combining biography with social history and women's history, Kindred reconstructs the life of one woman, from her birth and upbringing in St George's, a port town and naval base on Bermuda, to her life married to a young Royal Naval officer, concluding with her death (aboard ship, where she had shortly before given birth to the Captain's fourth daughter). The historian employs the letters written by Fanny herself and letters written about Fanny, Fanny's pocketbook, Admiralty records, and other sources including journals and private papers. The author cites the diaries of Betsy Fremantle, who lived with her husband Captain Thomas Fremantle, on his vessels for a period of seven and a half months during 1796-97. She also points out that the warrant or standing officers, such as the master, the carpenter, the boatswain, etc., were by tradition allowed to have their wives and children live aboard with them, in spite of the Admiralty prohibition. Kindred says Fanny employed the services of at least one of these women from time to time. Where there are men and women, there will be children.  In May 1814 Fanny and her daughters went to London because the "odious measles have got amongst the Children belonging to the Ship" (95).
Aboard and onshore, wives played a role in their husband's careers, as the navy was a social organization as well as a military one. Influence, interest, and relationships were important to advancements and assignments. The author says Fanny and Charles must have spent a good part of 1813 discussing his career options, his chances for a favorable posting and the possible consequences for her. Writing to James Esten if Charles "should be fortunate enough to get a Frigate before the American war is over he will certainly endeavor to get out on that station & has promised that I shall accompany him" (130).  Jane Austen, Kindred says, had a message about naval life to convey in Persuasion which champions the navy's social group as morally superior to the landowning gentry and aristocracy, and to offer women as well as men happier and more vital social roles (202).
The biographer spends some time and effort to show that Fanny was the inspiration for the Admiral Croft's sea-going wife, an inference that's impossible to prove. Fiction is an art and craft of synthesis and confabulation, even social realism such as Jane Austen excelled at. The important hypothesis is that the Admiral and Mrs. Croft are probable characters, drawn from real life. Their relationship and living situation mimics that of her brother and sister-in-law, the Captain and Mrs. Austen – Charles and Fanny – whom the writer Jane knew very well.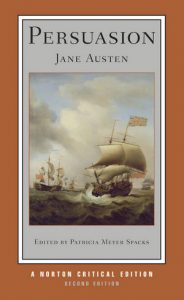 Charles and Fanny, a young married couple in love, spent as much time together as possible, including over two years onboard his commands. Austen presents the character Mrs. Croft, the Admiral's wife, as a supportive naval wife who enjoys life aboard or on a station abroad, as long as she is with her husband. This is surprising to some of the other characters in the story as it may be to modern day readers who mistakenly believe English women stayed home and had little to do with the navy while their men went off to war. Some couples, like the captain and Mrs. Austen, chose to stay together aboard the warship. The author touches on but does not fully examine the financial advantages for a young officer who cannot yet afford a house ashore, to keep his wife afloat (86). Nor are many inconveniences brought up – possibly because Fanny never mentioned them in her letters or her diary. She also has a female servant living on board to help her with the children, but Fanny has little to say about Nancy (104). One wonders what life aboard was like for her and how she fit in with the other servants and seamen.
Overall, The Life and Letters of Fanny Palmer Austen succeeds in revealing the life of a naval wife during the late Georgian era through a social history, micro-history, and women's history approach. For some couples, the dangers, discomforts, and adventures of living together on an active naval vessel were welcomed. Fanny and Charles Austen were among them.