I a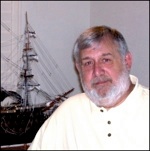 m shocked and saddened over the sudden death of Tom Grundner; author, publisher and senior editor of Fireship Press.
Last year Dr. Grundner, better known to all asTom, found me through the help of David Hayes' Historic Naval Fiction and expressed great interest in my unpublished novel Surgeon's Mate; a historical novel I had written as a sequel to Star-Crossed (Knopf; 2006) but that Knopf turned down.   I was overjoyed to find a small publisher of nautical and historical fiction and nonfiction interested in my work.
Tom was passionate about nautical history and historical fiction and that passion shows in his own writing.  He is the author of the Sir Sidney Smith series, four books in publication at the time of his death.
Tom gave me encouragement and guidance over the year we worked together.  He was very direct and to-the-point, yet he knew how to use humour and he knew how to get the best out of a writer.   I was looking forward to meeting Tom face-to-face.  We had tried to hook up last fall, but plans fell through, and we had tentative plans to meet for lunch in Tucson.  About a week before he died Tom offered me a contract for Star-Crossed, which has gone out of print with Knopf.  We discussed my proposed series, he was very committed to publishing it.  Tom was like the editors of the good old days, who mentored their writers throughout their career and developed relationships with them.
My editor died Sunday, September 11, 2011.   I have not yet read an official obituary for him but to read about his life in his own words, here is an interview with Grundner and David Hayes published by Historic Naval Fiction.  (Addendum to original post:  Here is the obituary published by Historic Naval Fiction , 2011on 17 September.)
I surely hope Fireship Press continues to sail.  I've become acquainted with some fine authors who are published under Fireship, including Alaric Bond, Steven Maffeo, Tom Hoover and Jan Holmes-Frost.  Tom himself was a fine author and a good-hearted person.  I miss him greatly and Iwill always appreciate the opportunity he gave me.
Farewell, Tom.
Yours, aye!