What if England and France had become one empire called "Frengland" and went on to conquer and colonize the globe together?  How long would it last?  Who would rise up against them?  How is that history any different than the history we know — or have been told?
Today I went to the Museum of Contemporary Art in Denver  to see a particular exhibit my son Matt told me about, by an American artist, Frohawk Two Feathers; a.k.a. Umar Rashid.   "You've got to see this Mom, I think you'll appreciate it."
The exhibition, titled We Buy Gold, We Buy Everything, We sell souls, is at Denver's MCA until September 9, 2012.  It's a collection of imaginative portraits and maps, mostly, accompanied by an on-going and constantly evolving synopsis of an alternative history of the world.  Yet the more things change, the more they stay the same.   Two Feathers' confabulated history is still a story of greed, conquest, valor, and trechery.
"The only constant in Frengland is war.  It has been plagued by the 50 years war (1737-1797), The Wolf & Hawk War (1782-1790), tthe War of the Dancing Machetes and individual rebellions against the crown led by such figures as Henri Lafayette, the Sugarcane Army Capptain turned Prussian loyalist; Paul Dubois, the famed Godfather of Revolution to those in the colonies; and the deadly female assassins, The Guyana Girls.  The constant fighting does little to stop the Frenglish Empire from setting up new colonies and strongholds across europe, the Americas, the Carribean Islands and beyond.  However, constant warfare and colonization comes at a cost — namely, the complete disintegration of Frenglish dominacne in the reigion.  This power vacuum allows the Spanish crown to reassert its dominance over Nueva Espana…" (Tricia Robson, Curatorial Associate, MCA Denver)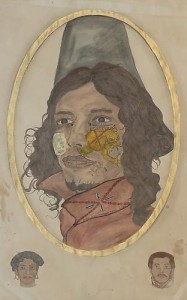 The Native American tribes are drawn into the fray as the Chicago-born artist continues to expand on his saga in a playfully engaging way.  His re-imagined history is told in portraits that include more non-whites, women, mulattos and mestizos than most historical sources include.  The story goes on and on, continually evolving, with more portraits, more subplots, more revolutionaries, more portraits and maps.  Many of the portraits and their accompanying historical summaries are delightfully witty as he mixes past with present, jumbling everything up and yet it all seems rather plausible.
As I wandered through the two-room exhibit I saw other patrons absorbed by the fictional events, some of them smiling, bemused, and some looking troubled.  Because even though it was fiction, it was real.  These characters lived, somehow.  Two Feathers' history is like an anagram; rtshiyo, all jumbled up but all present and accounted for.  It was a little disturbing to me, in a delighfully witty way, to see once again how subjective history is and how it belongs to the victors.
As a writer, I was inspired.  Frohawk Two Feathers has created a grand and evolving synopsis as he imagines more characters and scenes.  He mashes up fiction and visual art in a thought-provoking way, providing enough material for a whole new series of historical novels.  The artist has blown me out of the water.  I want to go home and write a new historical novel.  And I want Frohawk Two Feathers to illustrate it.
For more information and an interview with the artist read the New Americans Paintings Blog