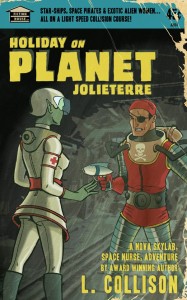 I have a hard time developing a "platform" as a writer because I don't stick to one genre.  Instead, I time-hop from past to present to future.
I've just published a new short story.   Holiday on Planet Jolieterre; a Nova Skylar Space Nurse Adventure  is available in electronic format on Smashwords  for 99 cents.
This space opera satire was inspired by a Mediterranean cruise Bob and I took last year aboard Independence of the Seas,  along with fellow writer Margaret Muir (who will guest post here on Monday).  I used my nursing background to create the protagonist, Nurse Nova Skylar, a hermaphrodite from planet Skeksio.
I LOVE the cover design by Albert Roberts, who also designed the covers for Friday Night Knife and Gun Club, and Looking for Redfeather.  Albert is a very talented graphic artist who also plays a ship surgeon aboard HMS Acasta.
Holiday on Planet Jolieterre takes place in the distant future on board a cruise ship, Looking for Redfeather takes place on the road in the 21st century,  and the Patricia MacPherson Nautical Adventures take place in the 18th century.
In spite of the diverse settings and time periods, I strive to create interesting, believable characters.  What's your favorite setting?