surgeons mate     From Historical Novels Review , issue 58; November 2011
My thanks to Eva Ulett for reading and reviewing Surgeon's Mate; book two of the Patricia MacPherson Nautical Adventure Series.  Although Ulett feels that Surgeon's Mate may be more to the liking of young adult readers than fans of historic naval fiction, I must clarify that I wrote not for younger readers but from the first-person perspective of an 18th-century teenager; a coming-of-age story in a nautical setting.
Throughout the course of the planned series Patrick/Patricia matures and grows old in a serialized maritime historical saga, in which new characters will be introduced.  In Yankee Moon, book three, I am experimenting with multiple perspectives, expanding the story beyond Patricia's immediate point of view.
I welcome constructive feedback from readers who found merit with Surgeon's Mate and Star-Crossed (chosen by the New York Public Library to be among the Books for the Teen Age — 2007) and from other authors.
Hot off the press here is the review in the November hard copy issue of Historical Novel Review:
SURGEON'S MATE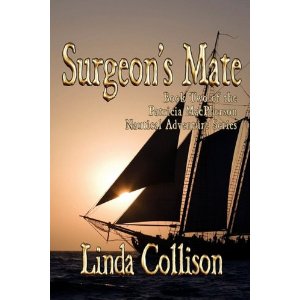 Linda Collison, Fireship, 2011, $19.95, pb, 292pp, 9781611791426
HNR Issue 58, November 2011 | Reviews | 29
17th Century — 18th Century| 18th century |
Patrick MacPherson, born Patricia, is surgeon's mate aboard the frigate H.M.S. Richmond. The ship and her survivors depart the 1762 siege of Havana at the opening of the story. During the siege, MacPherson earned the approval of the ship's surgeon and the suspicion of some of her shipmates. The life MacPherson has built as a medical officer in the Royal Navy is further complicated by a romantic attachment to the ship's gunner, Brian Dalton. In New York City, where the Richmond has carried the surviving infantrymen, MacPherson's professional and personal existence are threatened by the jealousy of the Richmond's other surgeon's mate. Compassion for a patient removes MacPherson from the Royal Navy's reach and sends her in company of New England smugglers into the Caribbean.
Surgeon's Mate is a sea adventure from a unique perspective. MacPherson struggles to gain competency in 18th-century medicine and deals with the pressure of discovery when "Every good thing I had done, was undone by the fact I hid a woman's body underneath these masculine clothes." Patricia's struggle with the age-old dilemma of wishing to have it all is interestingly played out in the microcosm of a mid-18th century ship of war, and in an America approaching revolution against Europe. She finds herself torn between a desire for freedom, respect, and the professional challenges of the life of a man and a surgeon, and the love of a good man.
Patricia's story may appeal more to a young adult audience than action-loving fans of naval fiction. This is the second novel in a series detailing the adventures of Patricia / Patrick MacPherson, inspired in part by historical accounts of 17th- and 18th-century women who worked in men's guise as soldiers, sailors, and marines.
— Eva Ulett
Thanks to the Historical Novel Society. for reviewing Surgeon's Mate in Historical Novels Review.  (To become a member and receive the magazine click on the link.)