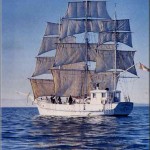 What would it be like to live aboard a historic arctic sailing ship?  Freelance writer Bruce MacDonald  wrote the book about the life and times of North Star of Herschel Island, his floating home for the past seventeen years.  This working vessel once carried fur-trading Inuit, their sled dogs, and valuable pelts of white fox fur. (I feel bad for the foxes, but I'm always intrigued by how people make a living. )
I asked Bruce how he was able to learn the ship's story and bring it to life in the book; diligence, coincidence, oral histories –and Facebook –all play a part.
Bruce MacDonald writes:

When author Linda Collison asked fellow authors to share their methods of research I immediately thought back to when I first began to piece together my book about the last of the Arctic fur trading ships, North Star of Herschel Island. I have been writing magazine articles for over thirty years and have contributed to numerous cruising guides and nautical instruction books and so my research methods are fairly standard – a bit of Googling, a few trips to the library, and as many phone calls as it takes to get some original quotes to bring the story to life. With this book I had to set a completely different course.
My wife and I purchased and moved aboard North Star of Herschel Island with our children seventeen years ago. We knew that the ship was from the Arctic and had originally been owned by two Inuit fur trappers. There is an old photo album that shows some of her previous adventures but all that did was whet our appetite to learn and record her whole story.
The ship is like a floating museum with most everything aboard left unchanged from when she was built in 1935. From our first days aboard we have met a steady stream of people who have recognized the ship from their time in the Arctic and have stopped by to tell their stories. For instance, one evening we were sitting in the pilothouse having our supper when a lady knocked on the door and hesitantly spoke, "I grew up on this ship. My dad used to own her. So glad that you are taking care of her and I am sorry to disturb you." She went to walk away but we convinced her to come and join us. Once aboard it turned out that not only did this woman, Margaret, grow up aboard North Star, she had been born on her.
Looking around the pilothouse and breathing in the old ship's smell of tar and cordage she couldn't help but let the tears start to fall and that evening she began to tell us what would become the outline for my research into the ship's Arctic years. When we brought out the photo album Margaret couldn't believe her eyes. "That's a picture of my mother!" she said. "I have never seen a picture of her before. She died when I was very young – and look – she's pregnant in this photo." Looking at the date she began to cry again. "That's me that she's pregnant with."
We copied all of the photos for Margaret and thus began a wonderful friendship. She identified everyone else in the photos and supplied me with names of other people that I could contact to learn more about the ship's history.
The man that we had purchased North Star of Herschel Island from was in his seventies and over the following years we met regularly for coffee and to talk about his own adventures with the ship. Initially he was quite eager to help with the project but I soon ran up against a wall as he soon decided that he should write his own book on the same subject. Aside from North Star being the last of the Arctic fur trading ships she was also chartered by the Canadian government during the Cold War to assert Canadian Arctic sovereignty and to sail  to and hold a remote island at the entrance to the NW Passage 'for Queen and country'. She was also chartered to survey the controversial B.C./Alaska boundary and one infamous summer was chartered by some Cambridge University scientists to search for mermaids off of the Aleutian Islands.
It was her fur trading years, though, that most interested me when her Inuit owners, during the Great Depression, were making money hand over fist selling their white fox fur to European fashionistas, Buckingham Palace princesses, and directly to movie stars such as Greta Garbo and Marlene Dietrich. To learn of this time I would need to speak with the Inuit who were there, though they would have been children or teens at the time.
I began a letter writing campaign, asking people from different communities that the ship used to sail to such as Tuktoyaktuk, Inuvik, Aklavik, and Sachs Harbour, using the family names that Margaret had supplied me with. Of the many dozen letters that I wrote I received one or two replies and these were just suggestions of other people that I should speak with.
As the Arctic communities are quite small I was able to look up telephone numbers and so I tried phoning people. In most cases, probably due to call-display, no one would pick up. I later learned of how private these people are and how many of them are very distrustful of white people. If someone did answer there invariably followed an inquisition of who I was and how did I get their phone number. Since the people that I wanted to speak with are senior citizens and many were hard of hearing, my answers had to be shouted back. Inuvialuktuk is the dominant language in the western Canadian Arctic and many times people would just speak this, either to frustrate me into hanging up or because that is what they always speak.
At this point I had roughed out a good history of the ship but I really only had a few peoples' stories to bring the book to life. I knew how much North Star had meant to so many communities in the '30's until the '70's but I was being stonewalled in my regular research methods.
Then one night I was looking over my daughter's shoulder when she was on FaceBook and noticed the search bar. I had no interest in this site and made a point of steering clear of it as this was a place where our children could speak with their friends. I really did not want to know what they were talking about and respected their privacy. I asked her to type in North Star's first owner's surname and suddenly all of the names that I had written to or phoned over the last year scrolled up on the screen.
The next day I made a fan page for North Star of Herschel Island and on the front page made a request for Northerners to share their stories with me. In order to communicate with potential interview subjects I made my own account and fired off some friend requests. The floodgates opened! Turns out that the residents of these remote Arctic villages love FaceBook. When they get up in the morning they sign on and many of them just leave the site running all day long just to chew the fat with their neighbours. It might be too cold to visit in person but with this new technology they can chat back and forth. On numerous occasions I have seen someone put out an alert that a polar bear had been sighted close to town or that someone had done well hunting and had some meat to share.
In this environment with everyone party to the interviews and perhaps with strength in numbers, I was able to just about complete my research. The coup de grace came when I was invited to go north and stay with some Inuit elders who had strong memories of North Star and her original owners and whom when I arrived there kindly shared their memories and their own photo albums with me.
The Inuit have a long history of passing on their stories through the 'oral tradition' and so written first hand accounts are very rare. When I had showed them my good intentions by traveling to the high Arctic to meet them and when they learned that my family and I had been maintaining and living aboard their old ship a trust was formed and they recognized the importance of a permanent record for their ancestors to read.
The book was published in late 2012 and I was invited to launch it in Canada's capital city, Ottawa, in the offices of the House of Commons in the Parliament Buildings. This would be akin to a U.S. author being invited to launch their book in the White House or a British author to be invited to the House of Commons and House of Lords. Through on-line crowd-funding with pre-sales of my book I was able to raise enough money to go on a book promotional tour twice across western Canada, stopping in bookstores, libraries, museums, and any other venue that would have me.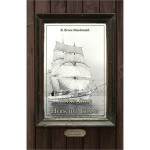 Scuttlebutt: Next month Bruce will be a guest on Julian Stockwin's blog, so be sure to check it out!
North Star of Herschel Island is published by friesenpress.com and is available on Amazon in Canada, the U.S. and the U.K.
ISBN: hardcover 978-1-4602-0558-7
Softcover 978-1-4602-0557-0
e-book     978-1-4602-0559-4
The ship's website is northstarofherschelisland.com and she has a strong presence on FaceBook. If you visit her page, please give her a LIKE. All proceeds from the sale of the book go to the ship's maintenance fund.