I'm pleased and honored to be included as one of the speakers and workshop leaders at the Historical Novel Society's 2012 conference in London, England!   Guests of honor include Lindsey Davis, Margaret George, and Philippa Gregory.
I'm looking forward to meeting other authors of historical fiction and learning from them, and anticipating the sweeping groundswell of energy and inspiration that inevitably forms when writers get together to further their craft.  I'm particularly excited to meet several authors of nautical fiction whom I've been corresponding with this past year:  Alaric Bond, Jenny Barden, Helen Hollick, Margaret Muir, and Richard Spillman are five salty authors — and David Hayes, who is an expert on nautical fiction and film set in the age of sail, connects us all.
Conference attendees can sign up for a boat trip to Greenwich plus Yeoman guided tour of the Old Royal Naval College.  You can bet I'll be on board for that!  (Is anyone up for a nautical pub crawl and ale tasting, after?)  Alaric Bond, author of the Fighting Sail Series, is organizing a private roundtable for nautical fiction writers in the "wardroom" at Scolfes, sometime during the conference.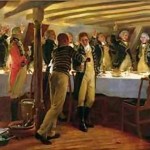 The internet and social networking is a powerful media for connecting with readers and other authors around the world, but nothing beats getting together face-to-face.  HNS offers a moveable feast and this year it's London, baby!  I can't wait…
For more information about the Historical Novel Society, visit their website.