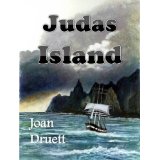 Joan Druett's Judas Island, the first book in her Promise of Gold series, features a young woman on a free trader's ship in the mid-nineteenth century– a topic Joan knows quite a lot about.  As a maritime historian Joan has written numerous books about shipboard life in the age of sail.  Many of her books (Hen Frigates, Petticoat Whalers, She Captains, Rough Medicine, In the Wake of Madness and Tupaia) are longtime companions of mine and hold a special place on my bookshelf.  They influenced me (and made for entertaining reading) when I was researching my first historical novel Star-Crossed and its sequel Surgeon's Mate.
I was immediately engaged and found it a quick, absorbing story.
The protagonist, nineteen year old Harriet Gray. is an actress from a family of actors, her mother of some repute.
"We were a stage family, with stage traditions.  And my mother was indeed famous. 
In the Victorian era an actress had a social standing just above a prostitute.  Yet Harriet is a wily actress and it's a good thing, since in that era a woman pretty much had to depend on a man for her livelihood and Harriet's husband had run off, leaving her in dire straits.
And, as the lawyer had pointed out, desertion, no matter how heartless, was not considered a public scandal.  It happened all the time.  Thousands of men left their wives penniless while they hunted fortunes in other lands.
 [Harriet] said, "I acted.  After all, that is all I can do." 
Harriet is clever and resourceful.  She comes aboard Captain Dexter's brig Gosling with a scheme to get to Valparaiso.
 Jake Dexter, captain of the brig, has bent the law many times and many ways in order to make his livelihood.
At no time was it possible for him to forget that he was carrying passengers, and at all times he remembered a vow he had made right from the beginning – that he might smuggle goods through borders, that he might take on cargoes that were forbidden by local authorities, that he might trespass on foreign soil to spy for money, or go fortune-hunting on a hunch, but he would never touch the slave trade, and he would never carry passengers.
Harriet has a plan for her own survival and Captain Jake Dexter is always looking for cargo to carry that will bring him a good return.  But neither one plans on an epidemic of California gold fever to change the game.
The sexual tension between Harriet and Jake combined with the contest of their wills, the other characters aboard, and the ultimate fate of the ship kept me turning the pages.  (I kept thinking of Humphrey Bogart and Katherine Hepburn in the classic movie made of C.S. Forester's book African Queen.
Druett's historical fiction rings of verisimilitude (I love that word…) She knows her way around a ship and she's also quite at home in the time period.  She knows her world — and her craft.
Judas Island is published by Old Salt Press, a cooperative venture you're going to be hearing a lot more about.
Joan has authored many books, both novels set at sea, and nonfiction nautical studies.   She often gives lectures at sea. She's my mentor as I undertake my first nonfiction nautical book.  Here's her blog.