Tonight as I prepare our Christmas dinner on land I find myself thinking of Laura having her Christmas dinner in the Atlantic Ocean, with only her thoughts and dreams for company (and of course her sailboat, Guppy, a French-built 11.5-metre (38 ft) two-masted Jeanna Gin Fizz ketch.)
This sixteen-year-old circumnavigator is no stranger to boats and large bodies of water; Laura was born on a boat in the port of Whangarei, New Zealand, during a seven-year sojourn by her European parents (who later divorced.)  By the time she was six years old Laura was making solo passages in a dinghy across the lake.  At  thirteen, she made her first major solo voyage from the harbor of Maurik in the Netherlands making landfall in Lowestoft, England (where the authorities contacted her father to come accompany her on the return voyage.)
Dekker's plan to circumnavigate solo when she was fourteen received extensive international attention and Dutch authorities intervened, prohibiting her from doing so, but Laura was not to be so easily dissuaded.  She hopped a plane for the Caribbean.
When the Dutch court ended supervision of Dekker in July, 2010, announcing it was "up to the girl's parents to decide whether she can make the trip,"Dekker reported that she would depart "within two weeks."  She later commented about the authorities in an interview, saying "They thought it was dangerous. Well, everywhere is dangerous. They don't sail and they don't know what boats are, and they are scared of them." Wikipedia
Laura's Christmas Eve blog:
24-12-2011
"At dawn today the sunlight promised a cloudless day. I should have touched wood because Guppy is now surrounded by curtains of rain and dark clouds again… But I can spend hours just watching the sky and its fascinating creations. Today it was dark and threatening clouds next to white clouds and grey clouds with some scattered spots of blue sky here and there… which in the evening created an amazing sunset made of beautiful sunlight rays. Yesterday the clouds gathered in an arch that reached down to the sea far on the horizon and when the sun came down floating in the water it turned the arch into a barrel vault of lights, which was just wonderful to see… But now the waves have taken some very annoying patterns as the wind shifted, making for cross seas making us wallow heavily at times. Even though the sea may be calm for half an hour or so, it would be a mistake to leave things lying around thoughtlessly otherwise… Woosh! Oh yes, another mega-wave comes and then you better duck because here comes the frying pan flying at you in a murder attempt … or alternately it bring a rice pack to fall out of a locker to kiss the floor… You get three guesses to figure how I spent the rest of the day today ;-)"
Laura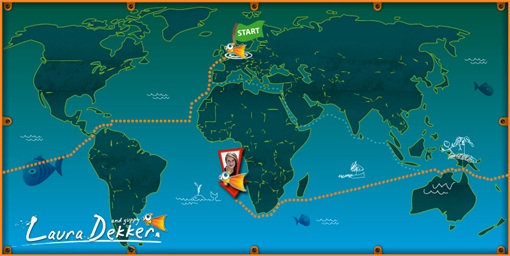 Here is Laura's approximate position on Christmas Eve, 2011.  (From her official blog)  She is bound for Saint Martin in the Caribbean (see Rick Spillman's Old Salt Blog)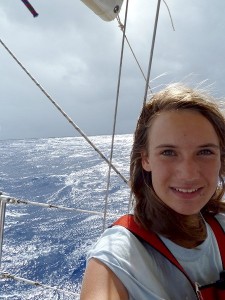 Merry Christmas and Godspeed, Laura!