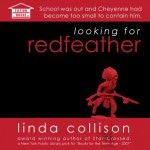 Storytelling isn't just for bedtime and this ain't Mom reading Good Night Moon.  This is Aaron Landon bringing to life Ramie, Chas, LaRoux, and the many characters they meet on the road. This is the ACX audiobook production of Looking for Redfeather available from Audible.com
As a writer it's extremely valuable to hear your work read by someone else.  To have your work read by an actor is both a privilege and a pleasure — and a little startling to literally hear those voices who inhabited your head for so long.
The Audible.com edition includes the Outlaw Trail soundtrack, a single composed by Matt Campbell and recorded by Red Whiskey Blue, a Denver-based band.
We're giving away five free downloads here on linda collison's Sea of Words blog; comment on this post or contact us to be entered.  This offer ends October 4.
It ain't Jack Kerouac's road trip.