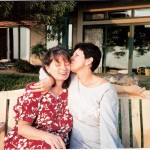 Some of my best friends are writers.
I first met Jeanne Roppolo in Hawaii, as the sun set on the Kohala Coast, back in 1997.  She was standing beside a big yellow tanker in jeans and a tee shirt, her eyes wide, hanging onto every word the professional trainer said.  We were both brand new volunteer firefighters for Hawaii County, Company 14-A, and a little nervous about the rigorous training ahead of us.
Over the next months and years, Jeanne and I learned to pull hose and operate the nozzles; we learned how to use a fire extinguisher, how to rescue people off of rooftops and burning buildings, we learned how to jumpstart a heart with the automatic external defibrillator.  Together, Jeanne and I fought many a brush fire on Hawaii's west side (the dry side) in our yellow canvas brush jackets, our hair tucked up under our helmets, our faces smudged with soot.  Jeanne was everyone's favorite firefighter.  She's maybe 5'2″ in her brush boots and 120 pounds with all her bunker gear on; she's got energy and enthusiasm to spare.  She is likewise one of the most trustworthy people I know, and I'm proud to call her my friend.
Being a middle-aged female firefighter is just one chapter in Jeanne's life.  A few years ago she took a job in Antarctica.  At a point when other women her age are thinking about retiring or spending more time rocking grandbabies, Jeanne goes off to McMurdo Station to work for six months.  I told her she should write a book.  She's written four so far, and working on the fifth!  I'm so inspired by this woman, this grandmother, this friend.
I asked Jeanne to share something of her writing process.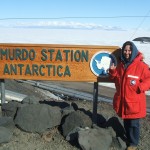 …While in the zen of my vacuuming at McMurdo Station, I was plotting my Antarctica adult memoir book when my dear friend and fellow firefighter, Linda Collison, author of numerous titles, the latest being Looking for Redfeather, suggested that I write a children' book about my adventure at the bottom of the world. With wonder and amazement, (that I had never thought of that), I replied: "I can do that."
My first draft was written with another children' book as my guide.  THIS IS WHAT I THOUGHT WAS EXPECTED. -So, I tried to fit into that format. When completed, I gave the result to a friend that I have known for over 45 years, someone who really knows me. She read my masterpiece (haha) & threw it back at me and said: "Do it over.  Where is the passion?  Where are YOU? This is NOT how YOU tell stories."
You know what? My friend was right.  That first draft was not me; that is not how I tell stories. I was trying to write the way I thought it was expected. I was trying to be something that I was not. So, I rewrote my adventure the way I verbally tell my stories. I changed my mind set. I no longer tried to be an author. I just wrote my story, my way. The result was 100% better. Writing my way, allowed my voice, my passion to come through on every page. This is who I am. I don't consider myself an author. I am just sharing my stories…When YOU write—YOUR personality, YOUR passion needs to come through the written word. The end product has to be a reflection of you.  If it is, you have succeeded.  You are the writer of your own story.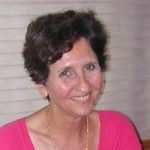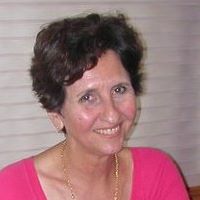 About the "Grandma Goes to…" book series: Written for children, educational for all ages, and an inspirational read for the whole family. Visually stunning with 38 pages of color photographs. These children's books meet federally-mandated, Common Core standards; a companion Teacher Study Guide is also available for each title.
In her motivational speaking engagements she conducts for children, teens, and adults, Jeanne Roppolo talks about her unusual life journey. This world-traversing grandmother loves to share her unique stories.  Not just for kids.Be inspired! Follow her on Facebook!  Purchase books and study guides, or schedule Grandma Jeanne to speak with your group (K-adults) via her website!

I hope Jeanne is planning a
Grandma Fights Fires in Hawaii
book in her series — if only for old times' sake.