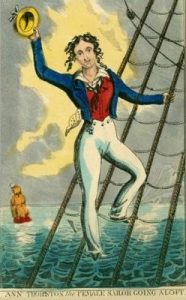 Nautical readers and historical fiction writers, I'm pleased to be in good company with Alaric Bond and Antoine Vanner presenting a breakout session  at the Historical Novel Society Conference next month in Scotland (HNS Conference August 24-26, 2018).Our topic is Getting it Right with Nautical Fiction (session 4 on Sunday morning) and we're prepared to answer your questions about our writing process — from story development and research to publication options.
How to create a sense of verisimilitude? How to get the nautical details right? How much is too much information? What's the market like? How do we reach potential readers?
There are more nautical geeks out there than you might imagine — but you don't have to be writing hardcore naval or pirate fiction to benefit from our presentation and discussion. Getting it right in nautical fiction goes beyond naval evolutions and sea battles. Nautical fiction has a broad reach (nautical term, pun intended.) If you write historical stories set in almost any place and time chances are good that ships, boats, port towns, rivers and waterways play a role in the setting, and that nautical tradesmen and women are characters in your story. Don't let the fear of nautical detail and language keep your characters and plot ashore; dive in and get wet!  We're here to help.
If you're attending the conference do consider joining our breakout session on Sunday, August 26 at 10:10 AM. Alaric Bond is an expert in life aboard a British age-of-sail vessel while Antoine Vanner specializes in the Victorian "age of fighting steam." Both authors have loyal followings for their nautical fiction series. I'm more of a generalist, a maritime jack-of-all-trades writer with a good deal of actual sailing experience, some of it aboard historic sailing vessels and many blue water miles aboard a 36-foot sloop with my husband.  I have an ongoing interest in the historical significance of women aboard ships and their contributions. I also write YA and female protagonist fiction.
The nautical literature niche is alive and well, it appears, despite the fact that most agents don't seem to be seeking tradition nautical historicals.  But yes, there is a market. We're glad to share our knowledge and our writing and publishing experiences with you.  Connect with us via our websites or on the Facebook group: https://www.facebook.com/groups/NauticalWritingSociety/ 
The surface of the Earth is mostly water and water connects us all. Think of all the stories that have taken place at sea!
The speakers at this year's nautical breakout session are:
Alaric Bond, author of the Fighting Sail Series, and other books
Antoine Vanner, author of the Nicholas Dawlish Chronicles
Linda Collison, author of the Patricia MacPherson Nautical Adventures, and other books