Rhode Island Rendezvous; Book 3 of the Patricia MacPherson Nautical Adventure Series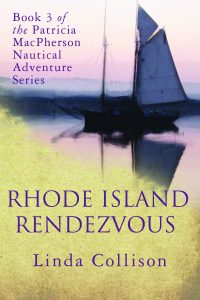 "An insightful look at life at sea during the colonial era, this novel offers a combination of adventure, discovery, and intrigue."
– The BookLife Prize
"Entertaining throughout, the expansive saga charts high-seas adventures between New England, the West Indies,and ports in between in the eighteenth century. The third novel in the Patricia MacPherson Nautical Adventure series picks up the engaging narrative of a cross-dressing surgeon's mate who strikes out as a ship captain in a profession that was then solely the province of men.
Set during a period of social unrest in the American colonies after the Seven Years' War, when people are rioting over the newly imposed Stamp Act, the meticulously researched novel tracks Patricia MacPherson, an upperclass woman in boarding school cast adrift after the abrupt death of her Caribbean plantation–owning father. Setting off on her own, she poses as Patrick MacPherson, a former surgeon's mate in His Majesty's Navy, disguising herself as "a rising young merchant seaman dressed to go to a wedding feast where he will rub shoulders with Newport's best." Determined to make her fortune, she becomes a smuggler who sneaks in molasses for "Yankee Gold" Rhode Island Rum and ends up captaining the schooner Andromeda as it embarks on a dangerous international voyage."
— Foreword Reviews
Based on the novel Star-Crossed (Alfred A. Knopf; 2006), a New York Public Library Book for the Teen Age – 2007, The Patricia MacPherson Nautical Adventure Series is adult historical fiction featuring an orphaned young woman — illegitimate daughter of a profligate Barbadian sugar baron — who takes the identity of her late husband's dead nephew in order to survive.
Rhode Island Rendezvous, the third book in the series, finds the cross-dressing Patricia master of a colonial trading schooner. It's 1765 in Newport, Rhode Island. The Seven Years War is over but unrest in the American colonies is just heating up. Maintaining her disguise as a young man, Patricia is finding success as Patrick MacPherson. Formerly a surgeon's mate in His Majesty's Navy, Patrick has lately been employed aboard the colonial merchant schooner Andromeda, smuggling foreign molasses into Rhode Island. Late October, amidst riots against the newly imposed Stamp Act, she leaves Newport bound for the West Indies on her first run as Andromeda's master. In Havana a chance meeting with a former enemy presents unexpected opportunities while an encounter with a British frigate and an old lover threatens her liberty – and her life.
Collison's own extensive medical background, combined with her expertise as a blue-water wind-and-weather sailor, gives incredible natural authority to her writing." — Steven E. Maffeo; A Perfect Wreck
"An excellent job has been done with MacPherson… There is a well-rounded duality of gender that allows both male and female perspectives: a clever trick, and one that comes across perfectly." – Alaric Bond; The Fighting Sail Series.
"Barbados Bound is a rousing and engaging tale of the almost impossible challenges facing a young woman cast adrift in 18th Century British Empire." – Rick Spilman; The Shantyman.
Available from your favorite bookstore to order, and from Amazon.com.
Save
Save
Save
Save
Save