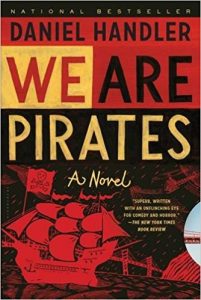 Daniel Handler captures me with barbed sentences followed by a boarder's slashing and stabbing, and then the takeover is complete. I am in shock, bleeding on the deck. "You got me, Handler, damn you."  I die a little death.
We Are Pirates is about an American family. This smart, irreverently funny contemporary family story goes slowly adrift, becomes chaotic, disturbing and ultimately sad, like adolescence itself when adulthood is at last discovered for what it is, too late. I can't go back to my innocent self,  I can only forget the past or change the memory and plunder on.
Piracy is an act of desperation that irrevocably changes life, strips it to bare bones. There is no going back. Like a successful pirate Handler has broken the rules, run up the black flag and taken over the ship. And I willingly went along. There's no treasure to be found here, but the glint of recognition and the hope of redemption. Nothing to do but keep sailing.
Breathtaking, bloodletting literary fiction by the author known for the Lemony Snicket series.