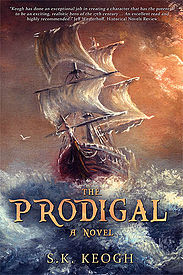 Self-Publishing: What used to be the last resort of an amateur writer is becoming Plan A for many professional authors wanting more control over their creations — and more revenue from their sales.  For a growing number of authors it's at least Plan B. That is, we initially published with a traditional or independent press but soon felt we could do a better job ourselves, selling the book for less (and keeping all of the revenue instead of the standard ten to fifteen percent). Of course there are production and marketing costs — which are large — but fully under our own control. Authors as publishers — it's becoming the new norm.
One such author is S.K. Keogh who is pleased to announce The Prodigal, book one of The Jack Mallory Chronicles, has recently been re-released — this time with Leighlin House Publishing, an imprint she owns and operates. Book two, The Alliance, and  Book three, The Fortune, are already sailing under the Leighlin House banner. The fleet is together now, with Keogh at the helm.
If you're new to S.K. Keogh's historical fiction, the stories are realistic adventures set in Colonial America during the age of piracy. Rousing good reads, they feature the anti-hero protagonist Jack Mallory — along with other compelling and complex characters, both male and female.
Susan (S.K.) and I have long been supportive of each other's work. I asked her to share some of her thoughts and experiences on writing and publishing with us, in conjunction with the news of Prodigal's re-release.
WHEN YOUR [BOOK] CHILD RETURNS HOME

S.K. Keogh
I'm sure my writing journey is similar to that of other writers of my generation (I'm 52). Growing up, I was an avid reader, and that interest naturally morphed into a desire to write my own stories. First young adult, then Westerns, then contemporary, now historical. None of my early works ever made it to the world of publishing, of course.
Back then submitting a novel to publishers meant writing query letters (the physical kind you sent through the U.S. mail, not the electronic kind) to the myriad of publishing houses, most in New York City, after scouring the thick Writers Market listings for someone interested in your genre. (Nowadays you can't even query a New York publisher without an agent to do it for you.) Then, if you were lucky, an editor would request to see your manuscript, and you'd cram that ream of paper into a box, say a prayer, and mail it through the U.S. postal service.
Much has changed since those days, and I'm not just referring to the process of querying. Now the publishing industry has shrunk to three options for today's writers: get an agent who can query the handful of big publishers (who won't invest much time or money into you because you are an unknown); directly query small publishing houses (who have even less money for promotions than the big houses); or self-published.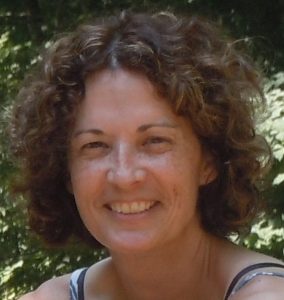 In 2012, my historical action/adventure novel, The Prodigal, was published through a small press. I won't go into all the gory details, but let me just say it wasn't what I expected. My displeasure grew over the years, so I decided to start proceedings to reacquire my rights to the novel. I'm happy to say, I succeeded and have just re-released The Prodigal under my own imprint.
Yep, independently published, just like the two novels that follow The Prodigal — The Alliance and The Fortune.
To me, with a lesser-read genre like nautical fiction written by a relative unknown, independent publishing is a viable option. Small publishers take most of your money and give you very little in return. You might as well keep your rights, publish your work with the cover and content you want, work your tail off to promote it (which is what you would do even with a small press), and collect the majority of the profit yourself. Why shouldn't you? You're the one who did all the work. Research is costly. Promoting can be costly. Writing is not easy. And neither is publishing.
But that book is your baby, your blood, sweat, and tears. And sometimes it's better to keep it at home (self-publish) then let it go out into the wide, wild world of indifferent publishing houses. There's nothing wrong with that. I know I'm happy that my baby came home.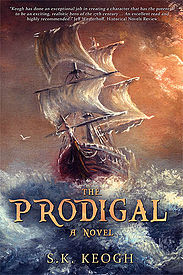 The Prodigal
A story of relentless pursuit, betrayal, and revenge:
As a young boy Jack Mallory knows horror and desolation when James Logan and his pirates murder his father and abduct his mother. Falsely accused of piracy himself, Jack is thrown into jail. He survives seven years in London's notorious Newgate prison and emerges a hardened man seeking revenge.
His obsession with finding his mother's kidnapper drives him to the West Indies where he becomes entangled with a fiery young woman named Maria Cordero. With a score of her own to settle with James Logan, she disguises her gender and blackmails Jack into taking her aboard his pirate brig, Prodigal, in his desperate search for Logan. Their tumultuous relationship simmers while Jack formulates a daring plan to rescue his mother and exact revenge upon Logan for destroying his family. But Logan has no intentions of losing what he now treasures more than life itself—Jack's mother, Ella.
Find out more about the Jack Mallory trilogy and forthcoming works on S.K. Keogh's author website and on Goodreads. Follow her on Facebook and as @JackMallory on Twitter.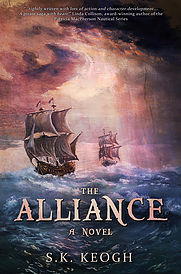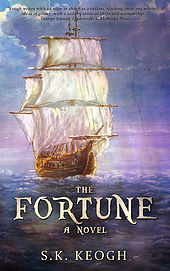 Save
Save
Save
Save
Save
Save
Save
Save
Save
Save
Save
Save
Save