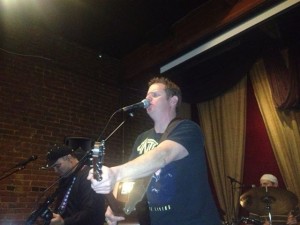 It's America, land of Black Friday madness and Red Whiskey Blue Wednesday.
On Thanksgiving Eve Red Whiskey Blue debuted their original song, Outlaw Trail, at 1515 Market Street, a trendy LoDo restaurant and bar. Written by band members Matt Campbell, John Birkey, Zac Niehues, and Patrick Simpson as the theme song for the road trip novel, Looking for Redfeather.
What's a road trip without a sound track? And what's a road trip novel without a theme song?
If you're Looking for Redfeather, it's available on Amazon, Barnes & Noble , or your favorite independent bookstore will order it for you.  Outlaw Trail will be the title track of a CD by Red Whiskey Blue, an all-'Merican band. Listen to the live performance on YouTube.
Check out more road trip songs that inspired Looking for Redfeather on my YouTube Redfeather playlist.