Twenty-five years ago Bob and I wrote Rocky Mountain Wineries; a travel guide to the wayside vineyards. When the book went to press in 1994 there were forty-nine wineries in the six states we covered — nine of them in Colorado.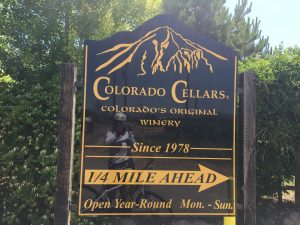 Colorado's oldest winery
The next quarter of a century saw a boom of new wineries and vineyards in the six states, along with the recognition of three new American Viticultural Areas (AVAs): West Elks in Colorado, Eagle Foothills in Idaho, and Lewis Clark Valley in Idaho and Washington). Similar to the French wine system AOC, AVAs are regions recognized for their historic growth of wine grapes — and for their unique properties of geography, soil, altitude, and micro-climate that lend character to the wine. The French call it terroir.  AVA boundaries are defined by the U.S. Treasury's Alcohol Tobacco Tax and Trade Bureau.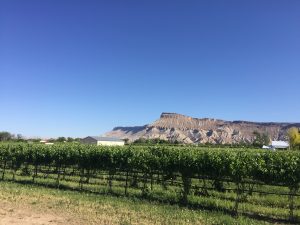 Today there are more wineries in the state of Colorado alone than there were in all of the six states we covered in our book. Rocky Mountain Wineries is twenty-five years out of date and long out of print — but it's not entirely obsolete. Many of the wineries we wrote about in 1992 are thriving in 2017, winning medals and new drinkers every year. Salut to Carlson Vineyards, Colorado Cellars, Grande River Vineyards, Plum Creek Cellars, and  Terror Creek Winery.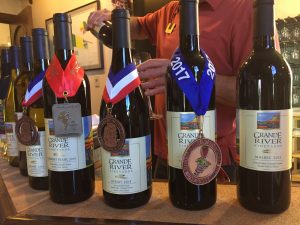 Bob and I recently spent a weekend cycling through the vineyards of Colorado's Grande Valley AVA. This was a supported 40 mile bike ride called the Palisade Piccolo Fondo. Cycling the wine route is very popular now — but in my opinion bike touring and wine tasting aren't very compatible, especially when the temperature exceeds 80 degrees Fahrenheit. Cycling is good fun and great exercise — but for wine tasting I recommend a vehicle with an engine and a sizable trunk. For carrying cases of wine, of course.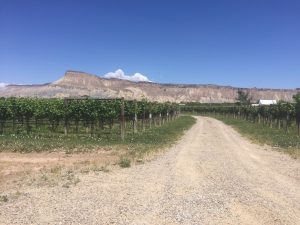 Bob rode with the fast pack (finishing the forty miles in under three and a half hours) but I lagged behind, stopping to take photos (my excuse for a quick rest!) My time was considerably slower, but hey, I finished all forty miles.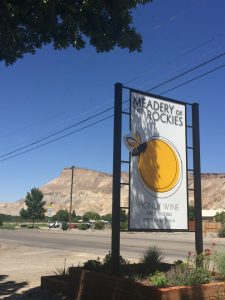 Wine made from honey — nectar of the gods
In the twenty-five years since Bob and I wrote the book we've seen the proliferation of micro-breweries in Colorado — and recently the legalization of marijuana. All have had a positive effect on tourism within the state, and the economy in general. There have been brewery guides written and there will soon be grow-house and dispensary guides, no doubt — but wine remains my favorite beverage and mood adjuster.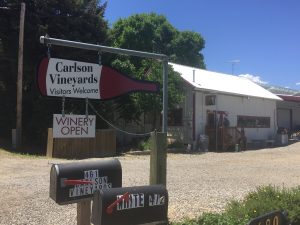 Fruit growing in the valley dates back to the 1800's. Homegrown wine was once a part of life in Colorado, as it was throughout America (before Prohibition). The 1890 state census reported 1,744 gallons of wine produced on forty-nine farms on the western slope of the Rockies. The West Slope town of Palisade (Grande Valley AVA) was once called Vineland.  (Collison and Russell, Rocky Mountain Wineries; A  Travel Guide To The Wayside Vineyards (Boulder: Pruett, 1994), pg. 30. Yes, I just quoted myself.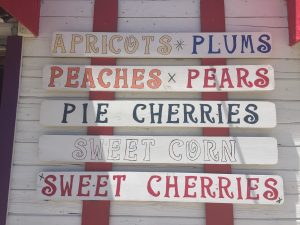 Our recent bicycle tour of Palisade revealed how the industry has come to fruition in Colorado's Grande River AVA. Much has changed since Bob and I last traveled the wine route. Wine tasters now stay in charming B&B's or in the resort-like Wine Country Inn, just off Interstate 70 and surrounded by vineyards. Some of the estate wineries have expanded, going from the simple but serviceable corrugated metal buildings we encountered in 1992 to elegant California-style gift shop/tasting room/event centers.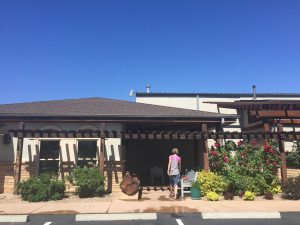 For us a trip to Palisade wouldn't be complete without stopping at two of our favorite world class Colorado wineries, Plum Creek Cellars and Grande River Vineyards. Grande River was hosting what appeared to be a bachelor-ette wine-tasting excursion the Saturday afternoon we visited after the bicycle ride. The horse-drawn hay wagon with sunshade is what passes for Uber or Lyft in Palisade.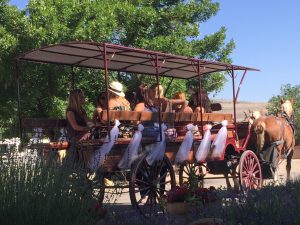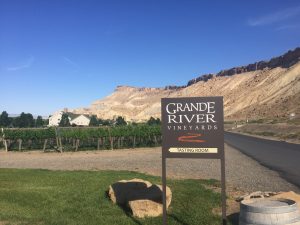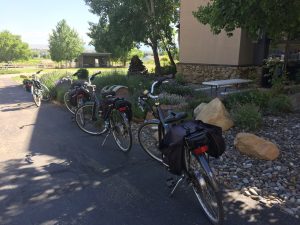 Over at Plum Creek, early Sunday morning, Melissa gave us a personalized tour and tasting.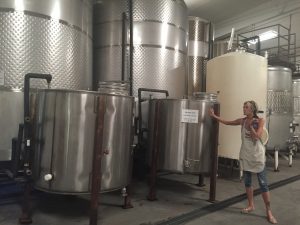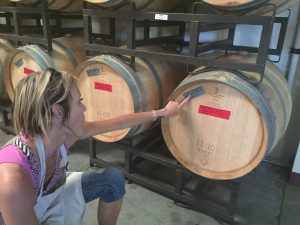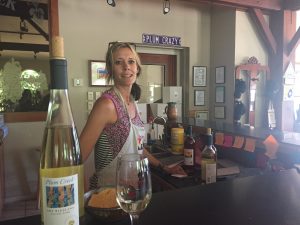 Years ago I asked a Rocky Mountain winemaker what his favorite wine was. "The one I'm drinking at the time," he answered. That's become my motto for life.
Salut!
***
Rocky Mountain Wineries; a travel guide to the wayside vineyards
Pruett Publishing Company; Boulder, Colorado. 1994
The wineries of the Rocky Mountains are producing good wines, in some cases great wines, with many national and international award-winners among their ranks. There are no world-famous designer labels to rely on in the six states covered in this guide, but the adventurous oenophile whether beginning or experienced, will discover here a wealth of interesting vintage expertly and lovingly crafted by people with a passion for their wine — and many interesting stories to tell.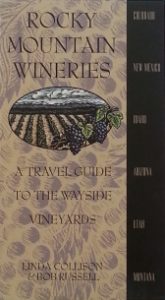 The husband-and-wife writing team of Linda Collison and Bob Russell are adventurers on land and in the air. They met while skydiving, which they still practice when not traveling, writing, or tasting wines… (from the back cover, designed by Jody Chapel. Printed in the United States. Text printed on recycled paper)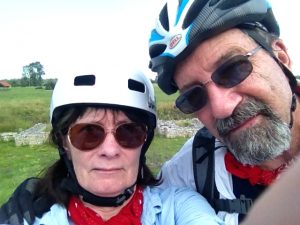 Save
Save
Save
Save
Save
Save
Save
Save
Save
Save
Save
Save
Save
Save
Save
Save
Save
Save
Save
Save
Save
Save