Bob and I enjoyed a quick stop on Maui on our way to Oahu…
On the west side of Maui, tucked in at the base of the emerald green West Maui Mountains is Lahaina — one of the few anchorages in Hawaii that is sheltered from the strong trade winds. Lahaina became a favorite resort of Hawaiian royalty and a favorite roadstead for European adventurers and explorers, missionaries, merchantmen and whalers. Tradewinds are great for powering a sailing vessel across and ocean but strong winds can cause a ship at anchor to drag and ground tackle to break.
Today Lahaina is a tourist town with snorkel, whale-watching and sunset cruise boats in the harbor and a few lone sailboats moored in the roadstead.  You can walk Front Street and get the feel of how it felt to finally get off the ship after months or years at sea, working four-hour watches in horrible weather eating salt pork and peas.  Lahaina must have seemed like paradise, and all those lovely, willing women to welcome you!  It's no wonder so many sailors decided to jump ship here.
Bob and I spent the day walking old Lahaina, gathering the bits and pieces of maritime history and quenching our thirst at the Lahaina Yacht Club.  Lahaina was where Kamehameha I landed with hundreds of canoes of his warriors from the "Big Island" of Hawaii, to conquer Maui by a show of force.  Next came the European explorers and adventurers, the most famous being Captain James Cook, who charted the Islands and introduced cattle.  The Hawaiians got on well with the British and incorporated the Union Jack into their own Hawaiian flag.
Soon came the merchant ships for sandalwood, which was very prized in China.  The earliest Chinese to arrive on Maui came on trading or whaling ships.  Later, thousands of Chinese men were brought to Hawai'i to work on sugar plantations and build tunnels and irrigation systems.
Ships brought the first missionaries all the way from New England, around Cape Horn, a journey that took about six months.  The oldest house still standing on the island of Maui is the home of Dr. and Mrs. Baldwin, who were newlyweds when they left Massachusetts.  After ministering on Hawai'i Island they were assigned to Maui, arriving at Lahaina in 1835.  Dr. Baldwin was a graduate of Yale University and studied medicine at Harvard.  He is credited with saving the people of Maui from the smallpox epidemic of 1853, by vaccinating them.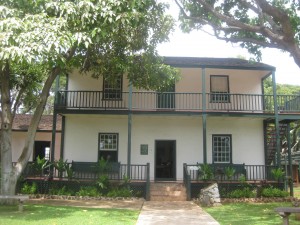 Here is a photo of the Baldwin House in Lahaina, and inside is a display of 19th century medical instruments, similar to what Dr. Baldwin used.  (In Surgeon's Mate, Patricia innoculates Andromeda's crew against smallpox.  Innoculation was a technique that was used before the safer method known as vaccination was discovered by British physician Edward Jenner in 1796, using the benign cowpox virus.)
A retired nurse, I'm always curious about old medical instruments.  Here in Dr. Baldwin's dispensary I found 19th century urinary catheters, tenaculums, toothkeys, scarificators, enema syringes and other cool stuff.