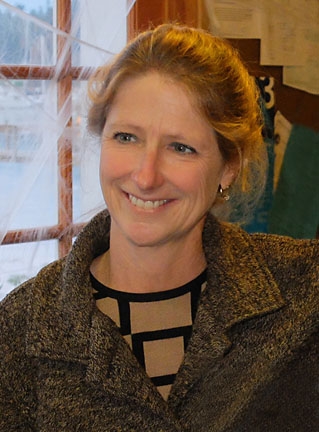 Wendy Hinman is an adventurer, speaker and the award-winning author of two books, Tightwads on the Loose and Sea Trials; Around the World with Duct Tape and Bailing Wire.
Tightwads on the Loose is a travel adventure book about the seven-year, 34,000-mile voyage the author embarked on with her husband aboard a 31-foot sailboat, performing a wide range of shipboard duties worthy of both "Wonder Woman and Suzy Homemaker," as Wendy describes it. Tightwads on the Loose was selected for the literature program for Western Washington University, won the Journey Award for best true life adventure story and was selected as a top travel book for women.
Her latest release, Sea Trials, is the story of the Wilcox family who set off to sail around the world in four years. Thirteen months into their voyage they are shipwrecked on a coral reef, with surf tearing a huge hole into the side of their boat. With years invested in saving money, preparing the boat, and learning to navigate by the stars, parents Chuck and Dawn refuse to give up. Fourteen-year-old Garth is determined to continue, while eleven-year-old Linda never wanted to go in the first place. To triumph, they must rebuild their boat on a remote Pacific island. Damage sustained on the reef and a lack of resources haunt them the rest of the way around the world as they face wild weather, pirates, gun boats, mines and thieves, scurvy and starvation in a trial that tests them to their limits.

When asked about her writing process Hinman says,
"Always an avid reader, I secretly longed to write books one day, but no one in my family was a writer nor did we know any professional writers personally.  After years in international business, during the dot com boom I shifted into working as a technical writer, a web content manager, and an online magazine editor, as we prepared for an offshore voyage. During our 7-years of traveling, I loved sharing our adventures on a popular blog and through our growing email list. Upon our return, readers encouraged me to put my stories into a book. They loved my humor – an essential ingredient when traveling aboard a 31-foot boat. Marrying my love of sailing and adventure with my love of writing seemed a natural place to start writing books and has kept the voyage alive for me while we build a boat and prepare for another offshore adventure.
After I finished writing Tightwads on the Loose, I was ready for another challenge.  Over the years since I met my husband I'd been hearing snippets of the epic voyage he had taken with his family around the world and their shipwreck when he was fourteen. Family dinners had been filled with do you remember whens: 
"Do you remember the time when gunboats forced us to sail across mines in the Red Sea?… the time when our pilot Abdul got lost in the Suez Canal?… when the boat starting sinking in Israel? mom tried to poison us? we ran out of food and nearly starved?

Such tantalizing anecdotes intrigued me. I got possession of the famous letters the family had mailed home. Hundreds of them. Inside them was more detail than any writer could hope for.  Too much, sometimes. But in combing through them I fleshed out the outline of the story that I'd developed in my mind of their voyage. I asked a lot of questions of the family members and took copious notes.  I consulted guide books and sailing directions, maps, and the ship's log to ferret out the details. I read the newspaper articles, listened to the interviews with the family. And started writing.  And double checking details with the ones who had lived through it. With a rough draft completed, I had them read every word to check for inaccuracies or things that didn't seem true to their experience.  It was a family bonding experience.
What I uncovered was such a dramatic story, that I could hardly believe anyone had truly lived through it.  Especially people I knew.  The challenges they overcame astound me. And that was AFTER surviving a shipwreck.
I'm excited to share these stories and I'm thrilled at how well-received they've been."
For more about Wendy Hinman's adventures, writing, and speaking engagements, please see her author's website and her Amazon Author page.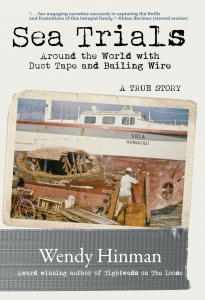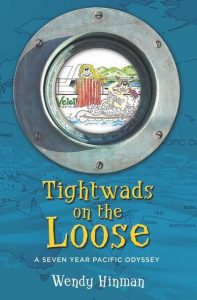 Save
Save
Save