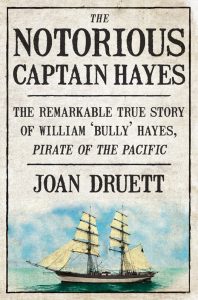 The American-born seafarer William "Bully" Hayes was a notorious celebrity in his own lifetime and in the century after his death became the antihero of numerous accounts, novels, secondhand memoirs — and a Hollywood movie starring Tommy Lee Jones and Michael O'Keefe.  At least two Pacific watering holes have called themselves Bully Hayes — one in Hawaii and one in New Zealand.
Much has been written about this 19th century adventurer, accused of countless cons, crimes, swindles and brutalities — some true, some embellished, some pure fiction. Overshadowing his misdeeds, or perhaps driving them, is the portrayal of Captain Hayes as a charismatic and dauntless character —  an enduring, mythical,  antihero.  This image was created largely by the popular media of his time, says maritime historian Joan Druett. Her latest book, The Notorious Captain Hayes; The Remarkable True Story of William 'Bully' Hayes, Pirate of the Pacific, is the most definitive biography written about the man, the myth, the legend. The author has spent years reading everything in print about Hayes, studying contemporary newspaper articles, letters, diaries, ship logs and shipping lists in an effort to separate fact from fiction.
The result? An objective but very engaging popular history of a sea captain, trader, showman and blackguard known for his many dupes and crimes — some mere swindles — others abhorrent (rape, coercion, and blackbirding — the transport of poor refugees as cheap labor). Joan likens the mythical Captain Hayes to Hollywood's Captain Jack Sparrow. The bad guy we love, an enduring archetype.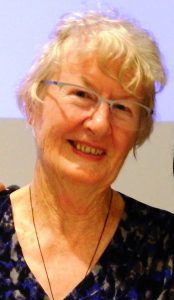 Joan Druett is an award-winning author of numerous maritime history and nautical novels, and a former Fulbright Scholar. She is married to Ron Druett, a maritime artist who has illustrated many of her histories. They live in New Zealand. Here's a conversation we had via email which gives some insight into her writing process:
Joan, what was the most surprising discovery you came across in your research for The Notorious Captain Hayes?
"That he was so likeable! One chronicler of the many yarns told about this rogue wrote that he was "as charming a rascal as ever broached a keg or stolen port," and everything I read about him — no matter how thunderously critical — confirmed this image.  It was little wonder, really, that he became magnified into the Robin Hood of the Pacific Ocean, because he was a-larger-than-life, charismatic figure. And yet the way he cheated people was truly shocking."
In your preface you say "There was a lot of garbage written about him" Can you elaborate on your process of separating fact from myth?
"By going through the newspapers of the time, including many shipping lists, I was able to build up a detailed timeline, and prove that he had an "alibi" for many of the farfetched yarns.  The first was that he took over the ownership of the clipper bark Canton during her voyage to Singapore in July 1854, but the shipping lists of the San Francisco papers had him in command of another ship on the Californian coast in July 1854. So he was innocent of that particular crime. And there were many other stories that were founded on idle gossip.  As well as this, Bully Hayes loved to tell tall tales about himself, and these were embellished and repeated all over the Pacific."
You liken the myth of Bully Hayes to the now iconic Disney antihero, Captain Jack Sparrow – a great comparison and one which helps to explain his appeal.   Can you compare Captain Hayes's him to any real life celebrities?
"It's the combination of wickedness and likeability that makes Jack Sparrow a fictional version of Bully Hayes — that and the touch of humor.  And it is that combination that makes Bully Hayes stand out from political crooks and Wall Street pirates.  None of them as attractive as he certainly appears to have been."
Your artist husband Ron has illustrated some of your past work. Did he have an artistic or other role in the making of the Bully Hayes biography?
"No.  The designer, the publisher and I had fun making up the jacket, as we wanted it to look like a "wanted" poster, and Ron had fun watching us at work."
Joan, I'm an admirer of you work; your nonfiction is lively and your fiction has a sense of realism and historical accuracy. Do you have a preference?
"I used to say that I put on weight when writing nonfiction and lost it when writing novels.  How true that was I am not sure, but historical novels are very hard work.  Enjoyable, but not as easy as researching material, thinking about it, and then using it within a nonfiction framework."
I'd hardly call researching material and writing a legendary man's story easy. How long have you been researching Bully Hayes?
"Fifteen years!  I started in 2001, by reading everything in print.  Then I moved to newspapers.  As you can imagine, my eyesight kept on giving up on the job.  Trawling through microfilms isn't fun. It was digitization that made the job possible."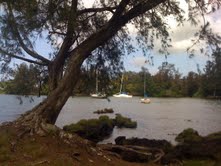 While reading Joan's book this weekend on my e-reader I was reminded of a personal story associated with the myth of Bully Hayes and the long list of boats he became associated with — boats with evocative names such as Otranto, Black Diamond, Ellenita, Shamrock, Lotus, and many others — many of which came to a bad end. When Bob and I moved to Hawaii we bought Topaz, a 20-year-old sloop in need of some work, anchored off Hilo. I well remember closing the deal on the shores of backwater Reeds Bay, Bob writing the check to a scruffy, roguish, charming American sailor named Hayes. (We weren't bilked: the boat was sound, had clear title, and we enjoyed many years sailing her). Our man Hayes immediately bought another boat named Pumpkin Patch and purportedly sailed to New Zealand with his wife and young daughter.  This was in 1993. After that, we lost track of him… Somehow –unfairly — I associate him with the legendary Captain William "Bully" Hayes, who died more than a hundred years ago but whose name and reputation lives on in the islands of the Pacific.
Follow author Joan Druett on her World of the Written Word blog.  For more information about her books, please visit  her website,  and Old Salt Press.
Save
Save
Save
Save
Save
Save
Save
Save
Save
Save
Save
Save