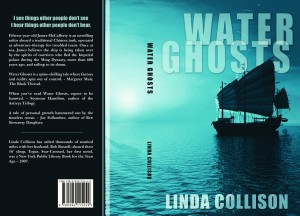 Here it is, the cover the professional design team came up with, based on my suggestions, and targeting a young adult audience.
I really appreciate my writer friends who critiqued the novel and provided me with feedback, pre-publication. Writing is not nearly as solitary as it seems; writers learn from one another and we help one another succeed. We're not competing for readers — readers can consume far more than any one author can produce. It takes a reader a few days to read what it takes us six months to six years (and sometimes more) to write! Writers inspire one another. We teach, mentor, critique, endorse and support other writers whose work we admire.
Forthcoming reviews and other author endorsements will be added to the front matter of the book in the next edition.  We will have some paperback ARCs available for reviewers very shortly, as well as mobi and pdf files, so please contact us if you're interested in doing a review.
Water Ghosts, to be published by Old Salt Press, next month — and we'll be at the BEA next month in New York! Look for Water Ghosts and Looking for Redfeather at Foreword Reviews booth #453.
The back text:
I see things other people don't see; I hear things other people don't hear.
Fifteen-year-old James McCafferty is an unwilling sailor aboard a traditional Chinese junk, operated as adventure-therapy for troubled teens.  Once at sea, James believes the ship is being taken over by the spirits of courtiers who fled the Imperial palace during the Ming Dynasty, more than 600 years ago, and sailing to its doom.
Water Ghosts is a spine-chilling tale where fantasy and reality spin out of control. – Margaret Muir, The Black Thread.
When you've read Water Ghosts, expect to be haunted. – Seymour Hamilton, author of the Astreya Trilogy.
A tale of personal growth hammered out by the timeless ocean. – Joe Follansbee, author of Bet: Stowaway Daughter.
 ________________
Linda Collison has sailed thousands of nautical miles with her husband, Bob Russell, aboard their 36' sloop, Topaz. She worked for over a decade as a registered nurse in Emergency, Critical Care, and in-patient psychiatric care. Star-Crossed, her first novel, was a New York Public Library Book for the Teen Age – 2007.