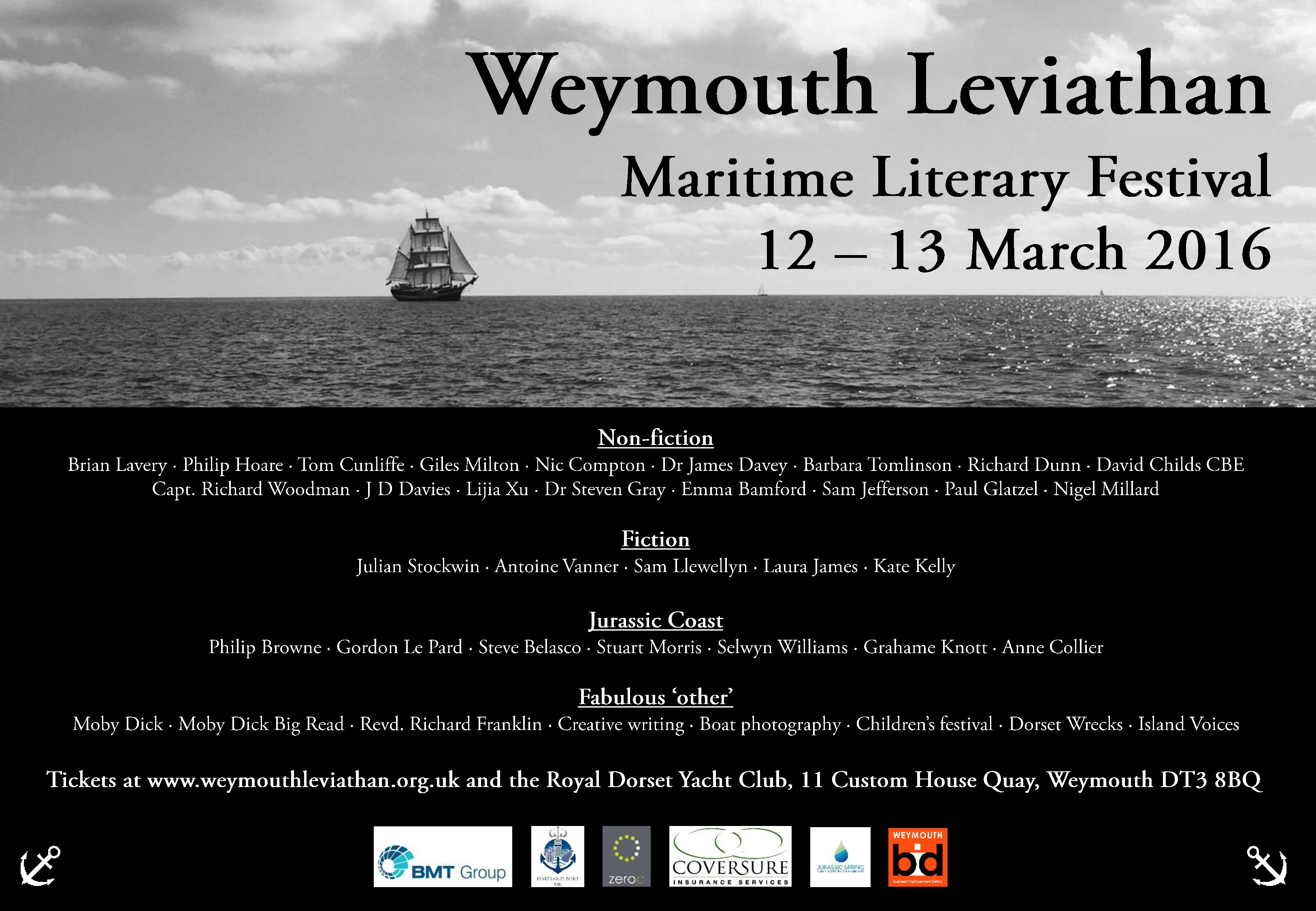 I'm looking forward to attending England's first maritime literary festival and meeting up with many of my nautical writer friends and acquaintances, and hopefully making new ones. Organized by James Farquharson, the event will be taking place the weekend of March 12-13, 2016 at The Royal Dorset Yacht Club and several other venues in Weymouth.
The festival includes 37 official events organized by James Farquarson, which are predominantly lectures given by well-known maritime historians David Childs, Anne Collier, Dr. James Davy, J.D. Davies, Richard Dunn, Dr. Steven Gray, Brian Lavery, and Barbara Tomlinson, maritime archaeologist Gordon LePard and wreck divers Graham Knott and Selwyn Williams, photographers Steve Belasco and Nigel Millard, sailing gold medalist Lijia Xu — and a significant number of well-known and emerging nautical novelists, autobiographers and nonfiction writers, including the ever popular Julian Stockwin and Old Salt Press author Antoine Vanner.
Nine of the presenters are women. They are Emma Banford (newspaper and magazine editor; sailor), Lizzie Church (Regency novelist), Fiona Clark Echlin (author, poet, playwright and academic), Anne Collier (historian and author), Angela Cockayne (artist), Laura James (author) and Kate Kelly (author and scientist), Barbara Tomlinson (author and Curator Emeritus, Natl. Maritime Museum), and Lijia Xu (gold medalist sailor and author).
For a complete list of speakers and events (which include a maritime church service and a Moby Dick Big Read, artistic exhibit, and showing of the movie) see the official programme. 
The events, held over the course of two days, are sold a la carte. I have so far bought tickets to three events and will surely add others.
A festival such as this is a great opportunity for writers to learn from each other and support maritime literature. We're connected by the sea, both physically and thematically. This coming together is important to share ideas and inspirations. Gatherings also presents networking opportunities for writers. A dozen or so of us will be meeting informally throughout the weekend to discuss topics such as writing process, publishing opportunities and marketing strategies. What better place than an old port town to have a maritime literary festival? Yes, there will be a pub crawl!
For more information and to purchase tickets in advance please visit Weymouth Leviathan Maritime Literary Festival website.
See you there?