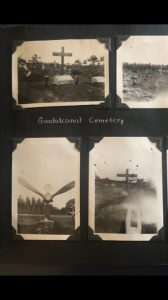 Dad taught my sisters and me to sing the Marine Corps hymn as soon as we were old enough to carry a tune. From the halls of Montezuma to the shores of Tripoli, we will fight our country's battles on land on air and sea...  Hearing the tune still makes me stand straight and tall and sing along.
Yet Dad never spoke to his daughters about the death he encountered on campaign in the South Pacific. He never spoke much at all about any of his war experiences, though he kept an album of poems and photographs — including photographs of the cemetery on Guadalcanal. My father, Harry Mansfield Collison, Jr., survived the Second World War to live a good, if short life. He died at 54, a man still in the prime, when I was a young woman of 22. I am fortunate he survived the war, or I would never have been born, nor my children, nieces, nephews, and their children.
My nephew Phillip Hare, Harry Collison's youngest grandson, is an engaging and talented man. Our Phillip joined the U.S. Marine Corps and served in Afghanistan where he was injured when his vehicle ran over an improvised explosive device. Luckily, he recovered and is living a full life. Lucky for us.

I've made a bit of a mess of my life, coming out of the gate. I came of age toward the end of the Vietnam War, graduating high school in 1971. Some of my school mates enlisted, some were drafted, some went to college, some joined the National Guard.  I married one of those mates — a National Guardsmen — divorced him, married again, went back to college and became a registered nurse, divorced again, married a third time – Bob — a man I met skydiving.  Bob had joined ROTC in college and eventually served in the U.S. Air Force. I was never saddled with the life-altering decision those men I loved faced, but the war affected our lives and consequently our children's lives.
At least we still had lives.
Richard Tregaskis's memoir, Guadalcanal Diary and John Hershey's Into the Valley are vivid first person accounts of men's first hand experiences during World War II. Tim O'Brien's powerful collection of linked short stories, The Things They Carried, reveals what it was to be a soldier in Vietnam. Ambrose Bierse's psychological short story, An Occurrence at Owl Creek Bridge, written about an imagined experience during the American Civil War, is one of my favorite war writings. I read these stories not for a morbidly vicarious thrill, but to feel close to those who never made it back home and died on foreign shores.
Because who speaks for the fallen soldier?
And what if he had lived?
And where have all the flowers gone?