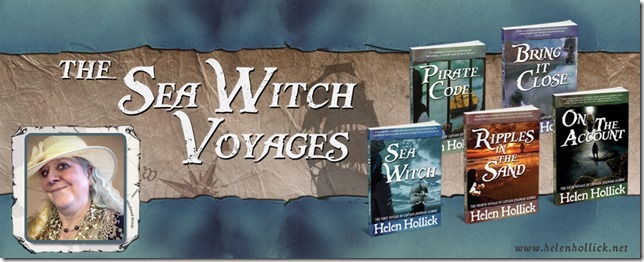 "To fight pirates, you use a pirate. Acorne will suit very well."
"And you think you can trust him?"
"I do not trust him in the slightest. Which is why I want you to keep close eye on him. It will stick in your craw like a fish bone, but I want you to see he stays alive, finds me that casket, and…"
— from On The Account by Helen Hollick.
Ever dream of spending a summer at sea? If you missed the boat this year, you can still create your own virtual summer cruise by reading a selection of entertaining nautical-inspired fiction. One of this summer's best salty beach reads is On the Account, volume 5 in Helen Hollick's Sea Witch series, a succession of adventures in which the seasoned author spices adult pirate fiction with fantasy and racy romance. White witches, pirates, and night walkers, oh my!

Set in the early 1700s, the Sea Witch stories are grounded in history but Hollick's make-believe world is charmed with some characters who command varying degrees of supernatural abilities. Jesamiah Acorne is a roguish merchant trader and captain of the Sea Witch. His wife Tiola is a witch; her dear friend Maha'dun, a beguiling night walker with a heightened sense of hearing — and an inherent fear of water. And then there is the murdurous Cara'mina, Lady of the Night Walkers who complicates matters exceedingly.  A lost wife, a casket of diamonds, a bone stone pendant, a past affair, a love child — Acorne's quest in On The Account leads him out of a Briston gaol and into deep and treacherous waters.  Meanwhile, Tiola has her own troubles staying alive and keeping her husband from being killed.
Hollick writes in an engaging, seemingly effortless style; her characters spring to life through dialogue and plot twists. I like that Tiola has her own adventures (and friendships) apart from her husband and co-protagonist — even though they are trying to reunite. (And what woman hasn't wished she could send messages telepathically to her mate, and even read his mind? Well, not ALL of his thoughts…) But Jesamiah won't be subdued, though he loves his Tiola. He's an anti-hero, an adventurer — and we forgive him his occasional indiscretions. As for the wily night walker Maha'dun, he tries his best to steal the show.
About the author:
Helen Hollick lives on a thirteen-acre farm in Devon, England. She wrote pony stories as a teenager, moved to science-fiction and fantasy, before discovering past lives in historical fiction. Published for over twenty years with her Arthurian Trilogy, she became a 'USA Today' bestseller with Forever Queen,  fiction based on the life of Emma of Normandy. Helen is Managing Editor for the Historical Novel Society Indie Reviews. Check out her website  Helen Hollick's World of Books.  
But it's the ocean that connects Helen and I. I had the pleasure of meeting her in London; we were both on the nautical historical fiction panel at the 2012 Historical Novel Society Convention — along with authors Margaret Muir, Rick Spilman and David Davies. What I've learned from Helen is to have confidence in your characters, be bold in plotting, and take chances — lots of chances. As Helen says, you must write the book you want to read. I admire her ability to capture character with dialogue and her craft at weaving a good story.
On The Account, book 5 of the Sea Witch Series is available on Amazon. I believe I spy a sixth book in the offing…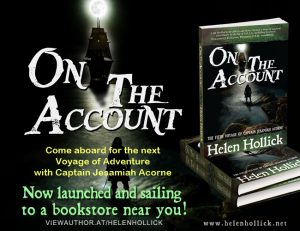 Captain Jesamiah Acorne is in trouble. Again. Arrested for treason and smuggling, believing his beloved ship, Sea Witch, lies wrecked on England's North Devon coast, his only hope of escaping the noose is for someone to quash the charges. That someone turns out to be his ex-lover – but there's a price to pay. He needs to find a boy who has disappeared, and a valuable casket that more than one person wants to get their hands on. When people start getting murdered and Barbary pirates kidnap his wife, Tiola, his priorities rapidly change – but who is lying about what? Is returning to piracy a wise idea? Is Tiola having an affair with her mysterious Night-Walker 'friend'? Meanwhile, Tiola has her own battle to fight – keeping herself and Jesamiah alive!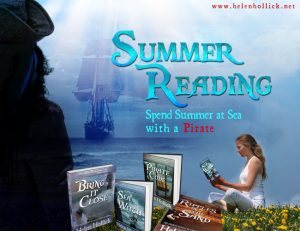 Save
Save
Save
Save
Save
Save
Save
Save
Save
Save
Save