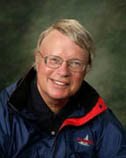 "Constellation is going into battle," Truxtun went on.  "Do not doubt it.  She won't be ready for sea by March as Mr. McHenry would have it, but by summer, yes.  When she is ready, I intend to steer her into harm's way, as Captain Jones so aptly put it.  But before I do, I have serious need of a commissioned officer skilled in naval gunnery… Will you, Mr. Cutler?  Will you accept an officer's commission and do me the honor of fighting alongside me against our nation's enemies?" 
from The Power and the Glory  by William C. Hammond III. 
Bill Hammond writes historical nautical fiction from a distinctly American perspective.  A Matter of Honor tells the story of young Richard Cutler from Massachusetts, who ships out with John Paul Jones to avenge the death of his brother Will, flogged to death aboard one of His Majesty's ships.  In the award-winning For Love of Country, the family ship Eagle is captured and Richard is sent to negotiate a ransom for his brother Caleb and his mates.  The Power and the Glory has Cutler serving on USS Constellation during the Quasi-War with France.  In the fourth book, A Call to Arms, to be released this fall by Naval Institute Press, Capt. Richard Cutler takes command of USS Portsmouth in the First Barbary War.
"Prepare to rake her, starboard guns!" John Dent cried from above.  That call to arms brought everyone back to the task at hand.
            The change of course had placed the Frenchman in a dangerous position. Constellation, seizing advantage of her opponent's vulnerability, ranged ahead of L'Insurgente under spanker, topsails, and jib.  Truxtun ordered her braces and helm swung over and bore down on an enemy that had apparently realized the mistake and was now struggling desperately to present her broadside.
            Constellation tore across L'Insurgente's bow.
            "As your guns bear…fire!" Richard shouted.
Hammond delivers a hefty helping of history in all of his novels and he does so with convincing detail.  There is plenty of nautical action, yet there is plenty of plot and character development on land as well.  The people he writes about — both historical figures and fictional characters — are well imagined.  His female characters have thoughts and feelings that are deeper and they act more realistically than those complacent wives, doxies and conniving mistresses that populate the nautical novels of some well-known authors of the genre.
Bill and I have been corresponding by email.  He is very supportive of other authors and is enthusiastic about the genre of historical nautical fiction in general.   I recently had the pleasure of chatting with him on the telephone.
Bill, can you describe your path to writing. Or – which came first for you? Your love of ships and the sea — or your love of history? How did you combine the two?
I would have to say that my love of ships and the sea came first because I grew up fifty feet from the ocean on Cape Ann, Massachusetts.  I learned to sail on a 9-foot plywood Turnabout when I was eight, and I started fishing twenty-five lobster traps off the coast at age eleven.  You learn a lot about the sea doing those things.  But my love of history began early on as well, perhaps because I lived near history-rich Boston.  I majored in British and American history in college, and I have been a self-proclaimed student of history ever since.  How did I combine the two interests?  I knew I wanted to when I began working at Little, Brown and reading the Forester novels it publishes.  But I did it, I suppose, the same way that many authors write about their passion.  By writing.  Every day.  No exceptions, barring a family emergency or a business necessity
I believe you credit your mother and grandmother with instilling in you at a young age,  the love of reading.  Which books and authors have in some way influenced your writing career?
Both my mother and grandmother instilled in me the love of reading, but so did my father and especially my uncle.  Lance was a professor of English at Yale and a very flamboyant teacher of eighteenth and nineteenth British literature.   His classes were always among the most popular among students, and if you talked to him for just a moment, you'd understand why. But the books that launched me into the wondrous world of words were The Call of the Wild and Sea Wolf by Jack London, and Billy Budd by Herman Melville.  I also became enthralled with the books of Edward R. Snow.  His tales of the mysteries and legends of the Boston Harbor Islands kept me enthralled for hours and hungry for more.
Your primary character, Richard Cutler, is my idea of an American hero. Yet he is very human, and not infallible. What was your inspiration for this character?
I knew early on that I wanted my protagonist to have a simple but strong name. "Richard Cutler," when it came to me, seemed just right. As to his character, I wanted to imbue him with those human traits I most admire – a sense of honor and duty, yes, but also a realistic sense of self and the world around him, a sense of humility, and above all, a sense of humor. That the name "Richard Cutler" came to me during a Sunday sermon added to its perceived suitability. I never have thanked the priest for the inspiration. I'm not sure she'd understand.
Your books are historical fiction, yet they are soundly rooted in fact and have been vetted by experts. How have you managed to acquire such a grasp of naval history – and history in general?
By reading, mostly.  Before I started writing chapter one of A Matter of Honor, I invested three years in historical research.  I don't know how many books I read, but certainly more than a hundred titles, fiction and non-fiction.  Most of these titles do not have a Kindle edition!  A number of them describe the intricacies of sailing a square-rigged vessel, so much of what I learned in those books applies to all the books in my series.  I have sailed all my life and I have been aboard several square-riggers, but I have never sailed on one. .Naval history has a special appeal to me because as a boy my dream was to attend the Naval Academy – until a football injury ended that dream.  So perhaps in doing all this I am living out my fantasies.
I'm struck by the way you bring setting alive. In so many scenes I get the sense that you have literally been there and are writing from memory. As a writer I want to know, how do you do this?
It's hard for me to answer that question, although I am pleased beyond measure by your observation.  I am well traveled, and I have been to many of the locations I write about.  But certainly not all of them.  For example, I have never been to any of the West Indian islands that are prominently featured in these novels. But I have bought travel books of these islands, and I have studied a great deal about their customs, and their plants and wild life, and their physical terrain.  The Internet, of course, is a great source not only for information, but also for photographs of key locations.  Plus, Victoria and I honeymooned in the Virgin Islands, and my parents retired in the Florida Keys.  So add it all up and I have a pretty good sense of tropical comings and goings.
Have there been any one-of-a-kind experiences that have changed your life or inspired you to become a writer?
Not really.  Coming from a literary family, and having friends who read books both for pleasure and to appeal to the opposite sex (this was the era when having a paperback copy of A Separate Peace or The Catcher In The Rye strategically placed upon one's person was the height of preppy fashion), I grew up thinking that nothing in life could be more satisfying than creating a story that people enjoyed reading and found worthy.  Fifty years later I still feel that way.
Describe a perfect day in the life of Bill Hammond.
Everything else I do during the day – ghost writing, copy editing, consulting with other authors – keys off the two to five hours I devote early each morning to my own writing and the editing of my writing.  So a perfect day is almost any day when I feel good about what I wrote or edited during the morning watch.
Where is the Cutler Family Chronicles taking us? Can you give us a hint as to what we have to look forward to in future books?
I had originally planned to write seven novels in the series, ending with the Second Barbary War.  But nothing of real historical significance happened during that war, and ending the series there could be anti-climatic.  So now I am planning to end the series with Book VI, which will be set during the dynamic and sweeping War of 1812.  Book V, which I am working on now, profiles the events leading up to that war.  It also profiles a world turning upside down and crashing down upon the Cutler family, both in a geopolitical sense and in a very personal sense.  Several readers have suggested I continue the series with a prequel, going back to the arrival of the Cutler family in Massachusetts in the early 1760s.  It's an intriguing notion, but I don't know what will become of it at this point.
Do you have any advice for novelists in general, and historical novelists in particular?
Writing is a very tough business these days, both for authors and for publishers. Not many people are making much money doing it.  So an aspiring novelist must write his or her passion, and then be prepared to let the chips fall where they may.  As for historical novelists, remember that people often read historical fiction as an entertaining way to learn history.  So both the general historical trends as depicted in your novel, as well as the facts and terminology associated with those trends, need to be correct.  But never forget that what you are writing is fiction, and that it's the story line that is providing the entertainment.  And finally, keep in mind that there is no right or wrong way to approach writing.  Your way is the right way. You just need to do it consistently, every day, seven days a week, during whatever time slot you can manage.  As the great writer Somerset Maugham once quipped: "There are three rules for writing a novel – but nobody knows what they are."