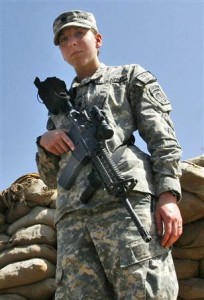 When I was an ER nurse we used to say we were in the trenches of healthcare, on the front line of the battlefield.  Indeed, many a 12-hour shift felt like a war zone, with the injured and sick arriving by ambulance, taxi, private car, and sometimes staggering in on foot (I'm remembering the guy who was knifed in the parking lot, one wintery night in Denver…)
But working as a registered nurse in a hospital Emergency Department is cake compared to working as a medic in a worn-torn land like Afghanistan. 
19-year-old Army Spc. Monica Lin Brown (pictured) from Lake Jackson Texas  is the second woman since World War II to be awarded the Silver Star for valor.  This article grabbed my attention and gave me pause.  I write historical fiction about a surgeon's mate who takes part in a land battle — the 1762 Siege of Havana.  To read about a real live woman risking her life to save the lives of wounded soldiers is humbling, yet validating.  Female medic earns Silver Star in Afghan war (from MSNBC.com)  
Current Pentagon policy prohibits women from serving in front line combat roles – in the infantry, armor or artillery, for example. But the nature of the war in Afghanistan with no real front lines, has seen women soldiers take part in close-quarters combat more than in any previous conflict.
23-year-old sergeant Leigh Ann Hester was the first woman since WWII to receive the Silver Star, in 2005, for gallantry during an insurgent ambush in Iraq.
My prayers for all of the men and women serving their country; may you be safe and may you soon be reunited with your loved ones.
Peace.