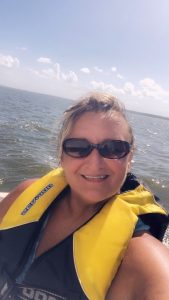 Meet Meriem Jo Ann Boussouar — novice sailor, boat owner, Gold Star mother, and grandmother.
After my son, Sgt Kyle Thomas, was killed while serving in the military, I had this big idea, that I wanted to learn to sail. I felt like it would help with my grief and get my mind focused on learning something new. Kyle was killed 2 years ago on the night of Memorial Day in a M1 Abrams battle tank roll over. He left behind his girlfriend Jessica and a 28-day-old baby girl named Devina Jayde. Devina was born with Albinism and is a beautiful 2-year-old with pure white hair! I also have 2 daughters and a total of 6 grandchildren.
I started looking at boats that would be good for a beginner and wouldn't break the budget and purchased a Chrysler 22. It needed a little work but nothing I couldn't handle. I cleaned the boat inside and out, got a newer outboard and replaced some wiring and navigation lights. I also replaced the bilge pump. I named her "Gold Star" since I am a Gold Star mom. Today, I sailed solo for the first time. I had a wonderful time all by myself on Pensacola Bay in Florida. I had dolphins swimming beside me! I just love it and it's very healing for my soul to be out on the water! I have the boat in a slip at a small marina just 2 miles from my house. Thank you for allowing me to be a part of your group! I still have a lot to learn!
Every woman sailor has her story about her "first time." Falling in love with sailing – be it racing, weekend pleasure sailing, long distance voyaging, or simply living afloat. You're never too young or to old to get on board and learn the ropes.  Mature women take to sailing quite readily, as I can personally attest to.
Many of my novels were inspired by my experiences afloat — namely, the Patricia MacPherson Nautical Adventures, and Water Ghosts. Currently I'm at work on another historical novel set in Portsmouth, England, and afloat on a British naval warship. I continue to be inspired by real women, my contemporaries, who have set sail. Meriem is one of them.
21st century films featuring females at the helm:
Maiden (2018) A documentary about the first ever all-female crew to enter the Whitbread Round the World Race in 1989.
Adrift (2018) Based on a true story about two sailors, one man, one woman, crossing the Pacific during hurricane season to deliver a sailboat.
Maidentrip (2013) A documentary about 14-year-old Laura Dekker who sets out on a two-year voyage in pursuit of her dream to become the youngest person ever to sail around the world alone.