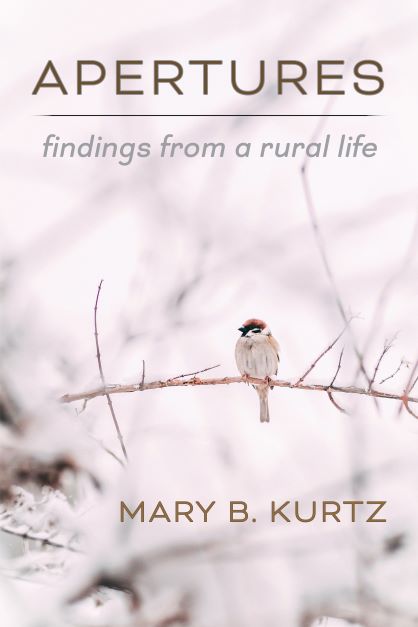 Memoir — what is it?
While autobiography is concerned with the names, dates, and milestones — generally of celebrities, politicians, and other "historically significant" people —  it is through memoir we can explore our living in a deeper, more revealing way. Autobiography is about what we think matters to the rest of the world while memoir is about what matters to us — yet memoir is at once personal and universal.
At its heart, memoir might be the most revealing conversation between author and reader that can exist. An unspoken dialogue takes place when reading, because as a reader you are not entirely mute. You respond to the writer, if only in your mind and heart. A connection is made, a conversation happens.
Mary lives, works, and writes on a ranch in northwest Colorado. A deep, authentic writer before her academic endeavor, the commitment, the work, the feedback, and the connections she made at Regis University must have enriched and encouraged her. In reading Apertures, Mary's roots and relationship to her place in the world is keenly felt.
I asked Mary for an update, a short post about her writing and publishing process:
From MFA to Publication
 Mary B. Kurtz
In 2017, with great trepidation, I began my MFA journey. Little did I know my master's thesis would lead to the publication of my book, Apertures: Findings from a Rural Life, a memoir-in-essays.
In my sixties at the time, I wrote from the perspective of what Parker Palmer refers to as "this horizon…on the brink of everything" where I explored my home ground, where I know firsthand the rhythms of ranch life and western traditions, the murmurings of a natural world, and the mysteries of aging and mortality. As I wrote, I applied my new understanding of the art and craft of writing, revising over and over again. Then I organized the essays to create a satisfying and complete manuscript, which was one of the greatest challenges in finalizing my thesis.
Before graduating, as part of my MFA graduate seminar, I identified potential publishers, primarily university and small press publishers whom I felt were a good fit for my book. Over the next two years, I also continued to submit essays that stood alone to literary journals. Three essays were eventually published, one each by Amsterdam Quarterly, Braided Way Magazine, and BlueHouse Journal. Then thankfully, in September 2020, Christine Cote, Shanti Arts editor and publisher, offered me a book contract and Apertures was released on September 20, 2022.
The pursuit of publication was a challenging one. But I followed the advice of a writing mentor, Priscilla Long, who always encouraged me to honor my work by writing with the intent to publish. So, I persevered and I'm so glad I did. After completing my MFA and with the publication of my book, my identification as a writer has deepened. It is more than ever, a way of life, a way of looking at the world, a way of considering the questions that matter and listening for the answers. It is a gift I would wish for every writer. www.marybkurtz.com
*
Apertures; findings from a rural life can be ordered from your favorite bookstore. Signed copies  available at Off the Beaten Path Bookstore in Steamboat Springs, Colorado.